Score Videos Review and Discount
Overview
The ScoreVideos is another site that focuses on big things. In this case these are big boobs, and there are plenty of them. You can find here models who seem to have a bit of fat on them, but other than that, there is no other issue a regular porn fan could find on them, well, maybe the fact that their tits are enormous. The videos here are still getting updated as the ScoreGroup continues adding new flicks. As times changed, the site adopted, and changed a lot, so now it offers HD videos, mobile videos, and the site is mobile-friendly. These videos are company-exclusive, which means that you might find them listed on other site of the ScoreGroup, or you might even buy their physical copies, especially for the older ones, as the Score has magazines running.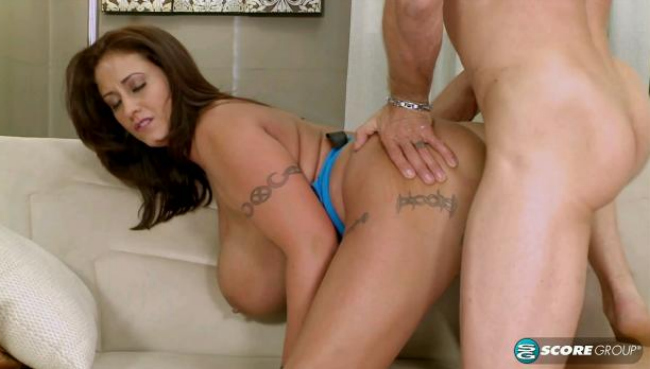 Design & Features
When you open the site, you will find out quite soon what this is all about. There are big boobs all around, sometimes there are cocks too, but they are usually deep in the mouth, pussy of the girls, or between their fine boobies. The overall look of this site isn't great, but it won't trouble you much, as your eyes will follow the trail of boobs laid down all over the place. If you become a member of the ScoreVideos, you are going to see nearly the same layout. The only difference is that you get access to a search engine, which in fact is just a model-search, as the content isn't tagged and the search won't include the videos' descriptions. One of the most useful tools you could use to navigate is the models' list, where you can find the hotties in alphabetical order. From the menu you can reach the extras, such as the store and the live cams.
There are nearly 900 videos on the site. Their maximum quality is at the usual 720p, and since the site very old, there are some lower resolution movies (360p). Everything they add nowadays is in HD, and you can enjoy this quality in the browser, and after downloading the videos. If you open a videos' page, you can see the player and the viewing options. You can enable or disable dynamic viewing, it makes it possible for the player to switch to a lower resolution if your connection slows down. The playback remains smooth, and so the video won't stop. It's a good option, tough disable it if you don't need it. You can enjoy the videos after you download them. To do so, the ScoreVideos grant you many options: HD and SD full-scene downloads, along with mobile formats. Also, there are clips, so if you find that there are only parts of the scene you like, you can easily download it from the site. Just remember where it was, and calculate, these clips are 5 minutes long. It seems that photo galleries are not available at the moment, so the only pics you can see are the screen shots.
Girls & Videos
The ScoreVideos offers you another fine selection of the hottest big-jugg models of the ScoreGroup. This website has fresh models, and though they semi-professionals, we can't say that they are professionals, nor we could call them amateurs. These are fine hotties who wanted to try out themselves in porn, and since they have big natural breasts, they offer some fine fetishist edge to all videos they do. Every model has huge boobs, and the claims of some users are partially too: some girls are not tight and curvy, there are models who have some fat on their body. However, there are no BBWs here, and though they might have a bit of extra on them, they are eager and that makes the very sexy. If you love boobs, you will love them, regardless their overall appearance. Those who have a double fetish which fixes them not just on big breast, but they also prefer ethnic girls, there are some around too: Black and Latinas are most common, and if you pay attention, you might just find some hot Asians too. If you are a man who just sees boobs on girls, then you won't feel bad for joining this portal.
Let's take a look on those videos, shall we? As you might have expected, the scenes of the ScoreVideos are professional footages, and they have some very hot and juicy sex on them. You will find here mostly straight videos. The number of solo and lesbian scenes is not high, but if you care to explore them, you will certainly find them really satisfying. When there are two busty girls fucking each other, and kind-a worshipping one another's breasts, the level of excitement just hits the skies! But the straight scenes are fine too. As many of the models are coming from the amateur arena, they are not acting much, in fact, most of the videos are pretty straightforward, and the girls get a hard dick in their pussy in a really short time. Nonetheless, what you get here is very sexy, and it's truly exciting. We haven't found anal sex videos in there, but as we know the ScoreGroup, we believe that there might some, only we are not time-millionaires, thus we haven't watched all videos of this site. You can enjoy watching as Caucasian guys fuck around, there are no Black guys in these videos.
The ScoreVideos actually doesn't offer you anything new, however it serves it in a delicate way. Big boobs are not new, but on the ScoreVideos the excitement hits the skies as the girls here get their fine pussy banged, and they show us every part of their hot bodies.

Back to the