Sapphic Lovers Review & Discount
Overview
Lesbians are one of the highly popular and most watched videos in any porn sites. I'm not quite sure about it but it seems like these bombshells making love with each other are full of burning passion. Whatever they do, they are all sexy in any angle. No offense to heterosexuals, but it seems like lesbians are one of the most flexible individuals. What I'm trying to say is, when it comes to different sexual acts, they are all up for it without second thoughts. Say for example those pussy eating clips. I personally think lesbians give the most erotic oral sex to females. Again, no offense to the opposite gender but with them, you can really tell that they know better in this department. Surprisingly, lesbians can also give a blow job without any awkwardness. These are just a few examples of the amazing things a lesbian can do. No wonder why lesbian sex videos always get positive reactions from everyone.
So, if you have a die-hard obsession for lesbian sex or just plainly admiring these beautiful beings, then Sapphic Lovers is the perfect site for you. Sapphic Lovers is a lesbian porn site launched in November 2014. Throughout their more than two years in the porn industry, this site is actively managed by the Global Content Service Ltd. Moreover, it also belongs to the ExtremeMoviePass network where you have the privilege to access 85 other porn sites. What's good about it is that these 85 sites are all coming from different niches that you'll surely enjoy a lot. The network sites mentioned are Amateur18, Slippery Massage, Only Breast, Wild Group Sex, Bukkake Orgy, Deep Throat TV, Crazy Mouth Meet and some other sites dedicated for fisting videos. And speaking of niches, Sapphic Lovers belong to the Lesbian Sex niche. It also belongs to the Hardcore Sex and Porn videos as its secondary niche.
The site, Sapphic Lovers, maintains a reputation as a site that consistently delivers high quality and exclusive lesbian contents. The site's collection is already considerably sufficient for amateur porn watchers. In addition, the quality is really outstanding so it won't be a turn off to anyone. The site also gives weekly updates to its members, so be sure to keep this in your calendar to be updated.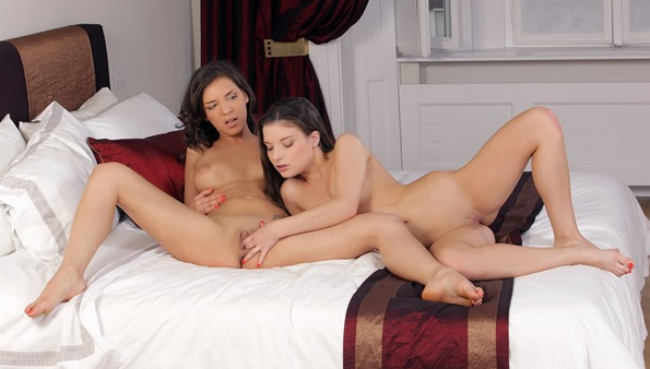 Design & Features
The website looks feminine, chic and sassy. It's a great design knowing that even though our models from Sapphic Lovers are fond of other females, they are still gorgeous and chic as fuck. The color scheme used is a combination of pink and purple and a white background. There's a banner that sits on top of the page where you can see a slideshow of naked pictures of these models. Underneath it, you can then find the website's latest updates. When it comes to organizing the contents, I would say that the site also does a great job. The site is also easy to navigate that you won't get lost in the middle of your browsing experience. There are 5 menu bars that you can find in the site: Home, About, Movies, Bonus ad Models.
The videos can be streamed or downloaded. Two of the best resolutions that you can get from any of these videos are 1920×1080 and 1140×960. The videos are 23 minutes long which is not bad anyway! If you wish to download the video, you can get it in MP4 file format at 950 MB. There's no download content so feel free to fill your stuff with these lesbian sex videos. There are also video ratings that you can find in the video's sections, so you'll know beforehand if you'll be selecting a good video or not. For the photos, unfortunately, Sapphic Chic does not have any of those. Lastly, the site is also mobile friendly, so it is very convenient to visit even through your mobile devices.
Girls & Videos
The girls from Sapphic Lovers do come to an agreement that all of them are going to taste one another. The models are very diverse in this site. They come from different ethnicity, race, skin color, shape or body type and age. The models are also amateur to semi-professionals but this does not mean that they have poor performance. In fact, they really are great porn stars.
There are also a lot of things that you can expect from the videos. Aside from the mainstream passionate kisses and touching, there's also more licking, not only each other's mouth but also down to the clitoris. Then there's fingering and other masturbation scenes like using of sex toys. The most popular one are dildos, while some are holding it, some are just using strap on dildos to simulate a boy to girl sexual intercourse. There's also scissoring involved in the scenes. Also, expect some interracial sex as it is also very erotic and exciting to watch. The following tags are expected in some of the scenes: lingerie, leather, huge tits, A-cup breast, MILF, anal licking, hairy pussy, toe licking, outdoor sex, threesome and fisting.
Conclusion
Sapphic Lovers is not just your ordinary lesbian porn site. They have really good contents here that you can't wait for the next set of videos that they prepared for you. They also don't fall short on their promise to deliver high quality and exclusive videos. When it comes to the models, I would say that they also did a great job screening their models because all of these looked very comfortable on camera. The scenes are also very convincing. There's a lot of passion between these girls and it's one thing that I like in their videos. The membership fee is not expensive and the service is great, so what more can I ask for? Sapphic Lovers is definitely worth recommending.

Back to the
---
Looking for further info? Check these other porn site reviews.