Overview
The ShyGF is one of the archive sites you can find online. It offers a large number of hardcore porn videos of girls, who are claimed to be amateurs, actual girlfriends. Why the site is called ShyGF remains a mystery because these chicks are everything but not shy. Thought they try to stuff this shy-theme down your throat by writing the word 'shy' into every title, don't fall for it: this is plain hard sex, there is nothing and no one that would stand up for the name. In case you like to watch hardcore porn videos of amateurs, you are at the right place. Brace yourself however, that it's a non-exclusive collection. In case you have ever searched the web for amateur porn, you may have already met with some of the videos. Nevertheless, in difference with the other girlfriend sites, this one is a standalone page, there are no shared or recycled content distributed through dozens of sites, which offer the same content. For amateur porn, this site might be a good place to start with, and if you have your own video, you could even upload it, though be ready that it may appear on other sites, due to the fact that here you get unlimited download options and also unrestricted access to the content. At this time, there are more than 3,100 videos here, along with more than 5,000 picture sets. The site launched in 2008, which was seven years ago, and the number of videos fit the update frequency it claims: daily. So, right now, you can enjoy a large collection that grows daily, and thought it's not exclusive, this is a really neat compilation to start with.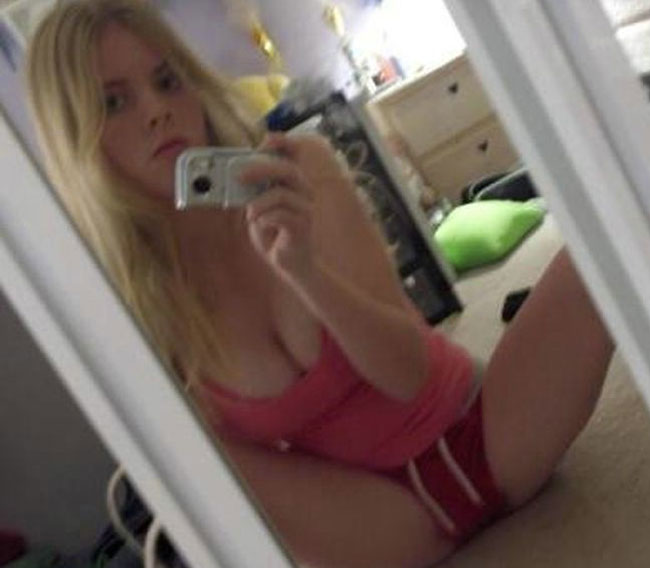 Design & Features
The home page is annoyingly simple. It's quite interesting why all amateur-themed sites use this type of listing, and why they are so eager on not to provide visitors with some insight. There is only one amateur site that features videos on its tour page, but that's not the ShyGF. However if you browse through the page's thumbnails, you will surely get the picture about what kind of content you may find inside. These are your only options for gathering information about the videos. These thumbnails are looking good, and fortunately, they seem to be original, they didn't corrected them too much. When you get to the members' zone, you will be welcomed by an utterly simple and colorful page. You will have four options in the main menu (located under the logo of the site): Home, Shy GF, Amateur Videos and the Support. The ShyGF and the Amateur Videos are quite evident: one takes you to the photos, the other to the videos. And that's it. Also, you can find some keyword tags, but without actual search tool, it's not much help, though you can narrow down the list of the content a bit. The movies here are available as online streams and of course, you can download them. Both options are quite exciting. When you open a video's page, you will find there a medium player and the download options. The player is Flash-based, it's a standard one, and it's used to play the 480p (in best cases) FLV stream. There might be lower resolutions, but since it's all home-made stuff, that's just expected. Usually MP4 files offer the best (480p) quality here, and you have to settle with that, since there are no HD scenes or whatsoever. If you find WMV files, be ready that it will be a somewhat lower quality, which is usually just enjoyable, but nothing more. Maybe the best things here are the photos. Note it again, that it's amateur porn, which predicts the overall quality, but it's surely much better than the videos. Don't expect to find here HQ photos, but these shots are certainly exciting and enjoyable. These girls like to show off, no matter what the site claims. There are nearly 6,000 galleries here, and though zip files are not available, you will certainly like these sets.
Girls & Videos
The girls here are really cute. Though all of them are amateurs, these chicks are doing things that they won't be proud of. Their overall appearance is certainly very neat, most of them are cute, tight girls, with nice pink pussy that's just shouting for fucking. On the other hand, you will see some real homely women too, but the things they perform are really bitchy you will wish for a wife like them. Since the content originates from all around the world, you can find here all kinds of ethnicities, and a large variety of nationality. There will Black girls sucking white cocks and White girls impaled on black cocks, so it's a real mix. Latinas are riding cocks like they ride a wild horse, and the Asians well, they are just hot and kinky, that's quite enough. Mostly natural bodies are found here. When a couple decides to make their own porn video they usually overplay a bit. The guys want to look more hung and they try very hard not to go on after a few minutes, and this causes some awkward moments, but nevertheless the sex they do is always great. You will see that these girls are going to get some hard pounding, and as perverted as they are, they always eager to spread their ass for some anal sex. Apart from this, a bunch of heavy and kinky niches are covered here.
Conclusion
The ShyGF is a nice site, which offers the visitors a great compilation of amateur porn. Though the girls are pretty and the sex is hard, as you will see there are lot more to it than that. Voyeurs will enjoy this collection, and since it's a fake network, you don't have to worry about complicated site-changing and silly navigation through multiple site's content. The site's price is low, and the daily updates are still happening.
Looking for further info? Check these other porn site reviews.
This site has been closed, have a look at our best GF porn sites collection.

Back to the