Ruth Blackwell Review and Discount
Overview
The name Blackwell does not seem to be a coincidence anymore, more so after coming to terms with who the stripped tutor actually is. This site is the territory of one Ruth Blackwell who showcases herself as the guru of interracial sex games. When we talk of interracial here, it only trickles down to the twist in her supposed surname, Blackwell. This self-ordained slut has a deep love for Black men and their penetrative mega shafts. She assumes the role of an experienced black cock queen who is widening her circle by dragging along succulent friends to taste her cock fortunes.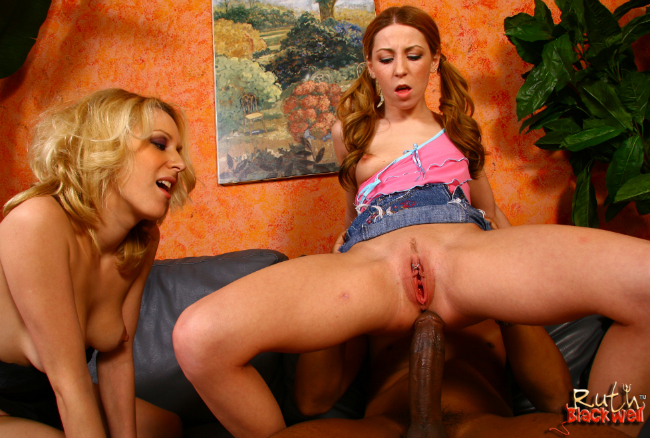 Design & Features
The construction of Ruth Blackwell is quite simple and keen to keep you engaged with the juicy content rather than fiddle with navigation. It is quite commendable that the site has taken into account the urgency of locating the real content even for an amorous armature not quite conversant with sifting through numerous options. The site takes advantage of two key features; a drop down menu where you select a scene such as "85 Pounds of Lexi" and click to jump right into the scene. A second valuable feature included to aid navigation is a sorting scheme where you can simply order the scenes that appear right on the page below according to rating and according to chronology. Such an order is quite justified given the fact that this site is exclusively dedicated to the sleazy queen Ruth Blackwell and her crowd of horny cohorts.
Girls & Videos
The myriad of models you find in Ruth Blackwell are shod with an adventurous spirit that can only be described as daring, yet horny enough to walk into unchartered territories. As the Black studs keep a low profile in the shadows, Blackwell takes the honour in welcoming these succulent queens with little idea of the well-endowed black boys in waiting. It doesn't take much of an effort to bring them up to speed with the already warming environment for some good unforgettable romp. The lusty models come in different fashions from the busty MILF Tyla Wynn to the heavily tattooed Fiona Cheeks, to the hesitant Lyla Lei, just to mention a few.
The scenes are hot hardcore and the evidently experienced black rompers take it easy and slow, yet steadily penetrative. We find Blackwell's role of the pitching party a bit interesting. However, it tends to feel a little redundant and passive in a boisterous environment where her friends get to share her piece of the black dick pie. The videos that however emerge from these lustful exotic ramps are accessible primarily in MP4 and WMV formats. The former does not give much of high res detail even though the WMV versions tend to capture more detail. Unfortunately, HD videos in the WMV are not the majority in the collection.
Such a slow progress has only permitted about 114 movies for download and the same number of photo sets for those that are more gratified through gawking at still images. For every set, there are about 200 high res pictures, even though we feel there could be significant redundancies thereby. In case this collection just doesn't cut it, you are free to check out the entirety of the Dog Fart Network where at least 23 bonus sites including Blacks on Blondes await you.
This site has been closed, check out this best interracial porn sites selection.

Back to the
---
Looking for further info? Check these other porn site reviews.