FirstDreamStudio Review and Discount
Overview
We all know that you don't have to be naked to be sexy. Though yeah, that is a bonus, but the fact remains that you don't have to be naked. You'll still show your sexiness even when you have your clothes on. Still, I bet there's also this appeal for partially nude girls, and they're ones to look out for as well. There's this site where you can see just that. It's time for FirstDreamStudio! It's a site that features one girl at a time per month, adorning her with all the nice clothes and lingeries that really match her, all the while shooting quality photos of her to preserve that sight that could be considered as a treasure. Well, consider yourself finding a treasure trove of softcore pictures that can actually make you hard. These are just the things you need when you need to still get hard but want to take a breather from all those hardcore sex scenes!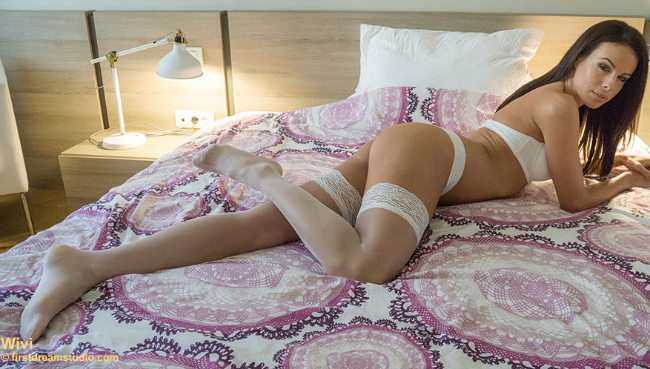 Design & Features
First off, you'll be asked by a page if you do want to enter. This is a savant question since it's already a given that you do want to go in. Still, it exists, so you click on ENTER to enter the site. A red text that shows the name of the site is followed by a really large slideshow of what is about to come, which are photos of a woman that is either in lingerie or nude. And damn! They use really fine women! It is then followed by a description of the site, FirstDreamStudio. They only use one woman at a time to produce the highest quality possible. Further down you can see a red text of the name of the girl featured at that particular time. Click on that or the other red text written as "preview" to see the preview of that girl, a big slideshow of her on the very top, a brief description of her after the slideshow, then a short description of the photos or the video(s) that you can see about her. Then you can see photos of her in different places, such as the sofa, the bath, etc.
Back to the main page, you're gonna see another red text written as "here" or the name of the site itself. Its purpose is to show you the process of the membership. That's right. This is a membership site, which means to fully view all of this wonderful content, then you have to become a member first. Still, it's going to be worth it, as you can see all of the beautiful photos that are going to be available if you become a member. All those photos, as if freezing and preserving the time where that certain girl showed her most beautiful self.
Girls & Photos
Again, it's a site that features only one girl once a month. This is to produce high quality content. They use their choice model, the one that catches their eyes, even if the girl is a complete amateur or top models. The point is that they want to emphasize on the beauty, whether it be the beauty of the face itself, the body, or the personality that will be reflected by the photos that are about to be taken. They will take photos of the women showing their moment of tranquility, simply to show off their beauties. These women simply are chosen because they have the looks as well as the figure.
The studio strives to show it off with their personal private touch. Of course, the photoshoot also covers showing the beauty of the women's figures, so they also capture their photos while wearing lingerie. They will be wearing exclusive lingerie, and they will be provided with all the necessary undergarments, such as the panties, the bras, the stockings, etc. They're not nude at this point though, it's only partial, but there's just this sexiness that comes out when they're in this state, as if they teasing and tempting us with how they look. Of course, vintage lingerie will be used in the photoshoot too, and the women will also be asked to wear high heels, wear stockings, or simply be captured barefoot on cam, and it will be part of the program. Finally, the thing that we've all been waiting for, the nude pictures. The women who are chosen are those who can feel proud of themselves and not be ashamed even when they're naked. When they are relaxed even when they're naked, there's just this confident aura that emanates from them and makes the photos even more appealing.
We will not only see a woman that is in a state of tranquility, you'll also see a personality that is kind of depicted in the photo. It also shows you how she can handle herself in front of the camera. With all of this, you can see in the photos a woman with real beauty, nice figure and confident personality. All of these characteristics will not be in vain on photos with bad quality, as the site offers 960px as well as 3000px zip files. The woman featured though that really caught my eye was Lia. She's a European hottie with the perfect looks and the perfect figure. Beautiful breasts, beautiful waistline, beautiful hip curves. She's just perfect. And no, no photoshop was used. It will seriously tarnish the reputation of the site, which I believe is not the case.
The models are pretty good too, they have also shown the best possible girls there are. I think this is the best site when it comes to photosets, they have definitely made up for the lack of content by the quality of the content. For this, I kudos to the owner(s) of the site! If you're still undecided about joining the site due to questions, don't worry, they got you covered. Just email info @ firstdreamstudio dot com and they'll gladly answer it for you. Become a member now, it is all worth it.
This site has been closed, you can find similar content here.

Back to the