Cash For Sex Tape Review and Discount
Overview
In this Internet era making money seems to be fairly easy. Especially if you're willing to tape yourself having sex with your partner. In exchange for a substantial amount of cash, these couples are willing to share their everyday sexual adventures with us. CashForSexTape has everything to appeal to those who want to see user-submitted content, good quality amateur scenes and couples enjoying both public and private sex.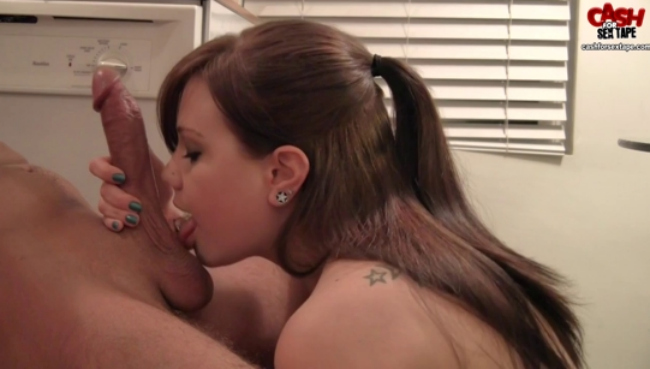 Design & Features
CashForSexTape is a little cluttered and has large portions of text. But it's user-friendly and you can browse it easily. The main column shows stills of the latest updates, a short intro written by the couple that submitted it and there's a rating system made by the users. Without a subscription, the "click here to watch all season" link will show an introduction about the couple and the videos they've done where it's possible to see one-minute trailers of every video. If you keep scrolling you will find stills of the newest couples and a ranking for the best-rated videos.
There's some information located on the right side of your screen about what the site is about and how it works, a place to share your videos and ranking of the couples. There's also a cloud of tags that you can use to find a particular kind of video or scene. On the other hand, the mobile version is perfect. It has fewer buttons (only to join and login), two screens (scenes and girls) and a list of stills where you can pick what you want to see. For every scene, you can access the trailers in two different formats according to your type of device. This makes the site work at a perfect speed.
Girls & Videos
Just as it happens with every user-submitted content site, here you can find a wide range of girls featured in the videos. Most of these women are European and of course they are all amateurs. But there's a big variety of ages, styles and body types amongst them. However, all of these girls have in common the love for having wild hardcore sex in both public and private places and taping themselves when they are with their boyfriends, and maybe with some other woman. The type of content is not consistent and you can find all types of scenes here, most of the videos include oral and anal sex, there is a good amount of masturbation and some flashing in the videos that feature public sex.
Once again, as this is user-submitted, the quality of the videos can be varied and only browsing through them will give you idea of what the standard is. A way to compensate this is the possibility to see a trailer to decide. For those who enjoy knowing the couples they are going to watch there's a page with personal information about them, such as age or body measures, and questions about their sex life. For members, there's the possibility of sending them a private message.
The site has a good archive with almost 400 scenes with an average length of 55 minutes. As you would expect, all of the scenes are amateur. However, this doesn't seem to be a problem for the quality and the filming looks on average very good. All of the videos are offered in HD quality and both in AVI and MP4 formats. The mobile phone version adds the M4V format for better performance on older devices. If you still want more, there's a very impressive amount of photographs with more than 250 galleries containing about 350 pictures each. They can be downloaded into zipping files without limit.
You can find two types of memberships (30 and 90 days) and one-day trial membership. Your payment gives you access to five other sites including user-submitted content. All of these sites have exclusive content and daily updates.
This site has been closed, check out our best amateur porn sites collection.

Back to the