WomenWhoPunish Review & Discount
Overview
There are all kinds of women. There are girls who like to ride a cock, some who like to take it from behind and there are those who like to be submitted to the will of their man. On this site you won't find any of these girls, because on WomenWhoPunish you will find a collection of videos where the girls hold the rein, and they do very mean things to their man-slave who deserves to be spanked hard and be mistreated. The site is a fetish-site also, because apart from the main topic the women here often dress up in leather and latex. The main goal of the videos is to make the guys learn discipline and submit themselves totally to the will of their dominator. When you start exploring the site, you will notice that there is a lot more content to browse, because the WomenWhoPunish is a member of a fetish-focused network, called FetishPack. There are 24 sites within this network and if you enlist on any of them, you will become a member of the whole network, and you are granted with the option to reach all sites included in your account. If you are someone who like femdom porn, than you are lucky, because the network offers you a lot more of this kind of action.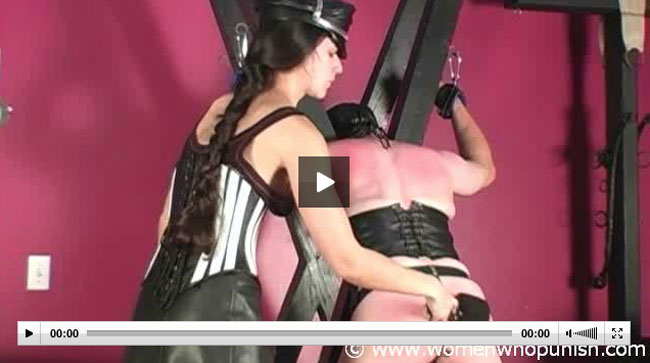 List of femdom sites of the FetishPack
FemdomStreams: this page offers the visitors a large collection of femdom movies, each coming in full length. The FemdomStreams is the alpha of this kind of porn, you can find here a large variety of events taking place and the submission of the man-slaves is total. This site is also suitable for those who have a fixation on feet, leather and latex. StraponSlaves: it's a very nasty site. The movies here aren't feature only domination, but there are lots of nasty things taking place: the guys need to suck those strapped on cocks, and they must take it all in their ass. FemdomLoft: this site has a compilation of various femdom movies, featuring all kind of domination, including mistreating, worshipping, and there are also lots of spanking and destruction of will and body. BrutalCBT: if you ever heard the phrase "she has you by the balls", you will be surprised to see how it looks like when it actually happens. The guys in the videos have their cocks going through some very rough treatment, and since they are slaves to them, the Mistresses can do anything they want with the guys and with their cocks. BeneathHer: if you like to watch perfectly shaped female behind descend on a guy's face, than this site is for you. There is a compilation of movies with facesitting and smothering. This worshipping site will satisfy your needs if you are into this kind of hardcore porn. These sites are only representing the heterosexual line. There are also sites dedicated to lesbian femdom, and transsexual domination too. All movies you can find on the WomenWhoPunish are taken mostly from DVDs, so most of them are debuting online on this site, and in the view of this they can be considered exclusive.
Design & Features
WomenWhoPunish has a nice and easily usable site. The simplicity of the tour is also apparent in the members' zone, where you can find a different layout and somewhat more options to help you. There is a search engine with elementary capabilities, but it knows enough to get you to the content you seek. When you open the videos' list, you can sort it by length, title, date and popularity. The videos are offered as an FLV stream, that you can open with the large embedded player. You can choose between high and medium quality, thus you can ensure a better playback if you could experience lagging or other issues. Downloading the videos is easy, since you get to choose from two options: medium and high quality WMV files. The stream is good enough for make the downloading to be a recommended option. You can enjoy a few photo galleries on the WomenWhoPunish, but the amount of videos overwhelms the size of the picture collection. The WomenWhoPunish has a mobile site that looks somewhat better than the desktop version, though there are no trailers here.
Girls & Videos
The women in the videos are very mean cunts. They do outrageous things with the guys, who seem to be enjoying it until a point, but though they ask for mercy, they don't get it from the disciplinary cunts. There isn't sex in the videos, or if there is any kind of penetration, than that's not a pleasant one. Anyway, the women in the scenes are looking really good, and they look vibrant while they play the role of the Mistress who makes her slave beg for mercy. There are mostly Caucasians on both sides, though some Asians, Latinas, and other ethnicities do appear in the movies. You can find on the WomenWhoPunish more than 250 videos. Each lasts for more than 15 minutes, so they will keep you busy for a while. If you like this kind of porn, you should get a good quality sound system or a strong headphone, so you can hear the snap of the femdoms whip on the skin of the guys, and on the off-chance that you can watch the videos loudly, you may even feel you skin itching where the girl whipped the guy.

Back to the