NakedSword Review & Discount
Overview
The NakedSword is one of the oldest gay porn sites online. It's not a site of one studio, but it rather serves as the ultimate hub, the greatest archive for gay pornographic videos. During the past years it grew into a great collection-site, and apart from other studios' videos it has started to produce its own content. So read further, and find out more about this site. As far as we were able to dig up the info, the site is turning 20 years old this year. Online since the first years of web-pornography, the NakedSword has quite a history. You can take advantage of the multiple daily updates, and knowing the production capabilities of some of the gay studios, you won't run out of content while you are a member. The NakedSword is a standalone site, and it doesn't offer you any bonus portals. Before the whiners start whining about it, just take a look at the numbers: there are more than 10,000 hardcore scenes from over 120 studios. These studios are like the JocksStudios, FalconStudios, NextDoorStudios… and apart from the US-based ones, you can find here huge amount original European porn too. Naturally, a DVD archive can't offer exclusive content. This is partially true for the NakedSword, because the company has its own porn producer, and there are regularly coming exclusive porn videos. The in-house made videos are even a bit better in quality since they were made to be published only online.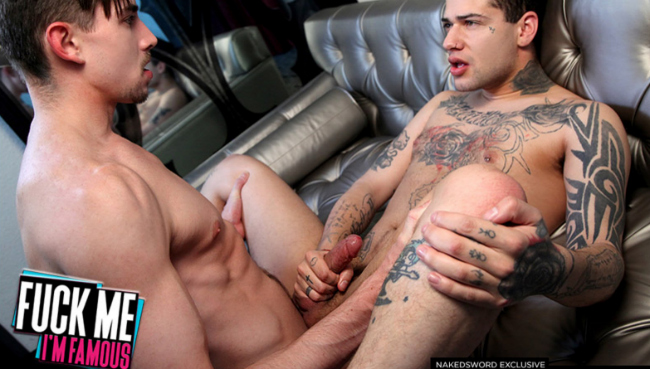 Design & Features
The NakedSword has interesting layout. It looks like the site's designer thought that it's good if they stay with an older design. As far as our opinion matters, we think that it wasn't such a bad choice at all. On the top you can find the logo of the site, followed by the menu. The rest of the tour page features the list of some videos. During your time as non-member, you can watch trailers, browse the collection, and view the studios' list. Once you log in, you will notice that the members' area barely changes. There will be a few more options in the menu. You can list the videos with several filtering options: you can choose themes, which are the categories, niches in fact. You may also brows the scenes by their studio. The easiest way to find something you may like is to type in keywords to the search field. The site is a streaming-only portal. It's a good thing and a negative element at the same time, because you can't save what you like, you can only add it to the favorites' library. Since there are over 10,000 videos, you may want to stick around here for a longer time. The stream is in either Flash or Silverlight format, and offers mostly SD resolutions. Concerning the speed: we found it satisfying enough. Since the scenes are quite long, you may run into buffering sometimes, and it's recommended to close any other sites that uses Flash, so you can have a better playback.
Boys & Videos
The NakedSword is probably the biggest gay porn portal, where you can enjoy the videos from almost all big studios of this niche. With this being said you may also expect a large variety of models, and you can rest assured: there is a lot of hottie to choose from. Naturally, given the studio-made nature of these videos, the guys you can see in them are professional porn stars. There are too many models here to pick a few and describe them. However, the variety is awesome. There are the older lads who have been doing this for over a decade now, and they are the ones who get the chance to break in the new comers. These older blokes are perfectly worked out, and due to years of exercise and diets they are big. Also, there are those tight-bodied twinks that many gay viewers go crazy for. These boys are just exploring the world of gay porn, but they know that they are in for a treat: they can show their body, and they can find out what will be their preferences. The most experience models are have their favored positions, and they are not really willing to give it up; the newbies are usually searching their ways, so they act versatile. If you browse the collection, you will see that the models have different size, come from different ethnicities, and they are varied by their age too. Also you will notice that lots of uncut lads are featured in there. The NakedSword features the videos of more than 120 gay porn studios. This means that you will find here different series with different approach, originating from the US and from Europe. As you can see, the NakedSword itself is producing porn too, so there is also fully unique content too. In case you like to watch gay sex, this place is the heaven for you. Every studio has its own style, and as you may know, every director has his (or her) own fixation. So, there are monstercocks, interracial sex, cock-worshipping and ass-worshipping too. Also there are scenes which feature bareback sex, though the major content seems to be mainstream porn. You can live out your fantasies by watching these videos, and while you are doing so, you will surely appreciate the increasing quality and the amazingly hot sex in them. There are full DVDs to enjoy, and the 8 new flicks per day makes sure that you have what you seek. So, if you don't mind that you can't save the scenes, you can have a long and pleasant stay on the NakedSword, and while you are here, you will always have something hot to jerk off to.

Back to the