Lez Kiss Review & Discount
Overview
The LezKiss is a hot softcore porn site. It's a good choice for those who like to watch photos and videos of cute girls caressing, kissing and making out. This lesbian niches site isn't about senseless fingering and licking, instead it provides sensual sex and glamorous beauties. All scenes here are exclusive, and if you are looking for hot girls in girl on girl situations, go no further, because you've found the right place. As a standalone site, the LezKiss has a good compilation of porn, and as a bonus, you gain access to its video on demand service, where you might get some other hot stuff.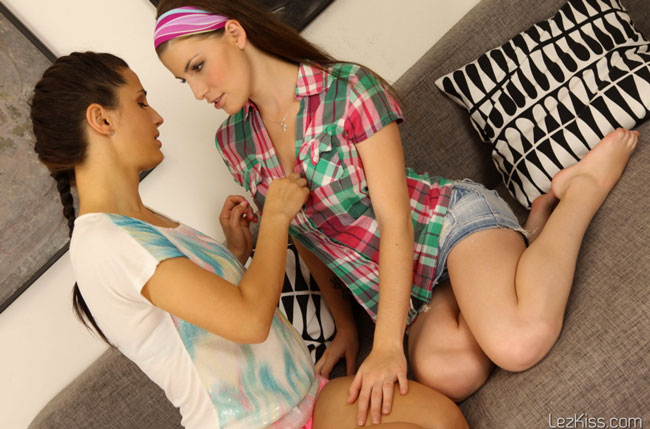 Design & Features
In tour mode, you can only take a look at the slideshow on the top of the page, and as you scroll down, you might see the latest updates with a description and few high-quality thumbnails. If you have already opened the site, you can see that it's a really pink page, it's a typical lesbian site as far as the color-scheme is concerned. The overall design of the site is good, and the layout is easy to handle. This is also true for the inner pages. The layout won't change; the main menu will be on the top, and you can find the search bar. Now this search engine is basic, and since the content isn't tagged it's only capable of scanning through the description. Nevertheless, it works and you will find it to be just enough to get you going.
All video here is available for online watching. The embedded player is not a standard one, but its fine. If you have a good connection, you can enjoy the videos without any annoyance, though it's recommended to let the videos load forward a bit, so you can get a better playback. If you have faith in your bandwidth and computer, you can enjoy the scenes in 720p right from your browser. Those who think that good things take time should stick to the download options. There are MP4 and WMV files available.
You have two or three qualities to choose from: a pretty good 480p SD, a satisfying 720p HD or you can get the awesome 1080p videos. Each scene comes with a set of pictures. Since the main goal of sites like this is to provide comfortable solutions to the members, you will find some nice options. If you prefer to browse picture galleries in your speed, you should click on a photo and after it opens, use the arrow buttons to go forward or backwards. There is a slideshow option too, so you can sit back and enjoy. Naturally, the most comfortable are the things that you are used to; in case you want to save the pictures you can do so, a zip file is offered for each set.
Girls & Videos
There is only one type of models on the site: gorgeous girls. Since it's a girls-only website, there is no need to talk about guys, thus we can focus on these hot chicks. The first thing you need to know about them is that they are not amateurs. Every girl who ever appeared on this site is a professional, this way you can be certain about the quality of the models. Now, these bodies you will see here are all tight and mostly fresh. Many of the girls are well below the third X, but if you like a bit more mature women some astonishing MILFs are featured on the site. The word beautiful is the best word to describe these models, since they are simple beauties. As may already see on the pictures, most of them are naturals with sweet perky or round breasts. Fortunately, the big-boob fans will also find their favorite type of plastic here: some girls have huge fake tits.
There are only Caucasian girls on the site, probably because it's a softcore porn site, and interracial and ethnic sex would make it to be considered as a heavier hardcore site. The videos are all staged. The girls doesn't talk, they just get it on. As the site's name tells, this is a lesbian site, with lots of kissing. Though there is nothing heavy happening, the site still offer you a bit of kink, because the long kissing sessions are usually considered as a fetish: tongue worshipping. Apart from the mouth to mouth action, the girls get on with some neat lesbian love too.
Another topic of worshipping is the breast-fetish; when the girls done with the tongue duel they start teasing the other's tits. This is the point when it becomes interesting. Both tits and both nipples get licked and sucked, until the girl's get totally turned. After they teased each other, the heavier thing starts: the cunnilingus. The models of the site are all gorgeous, but when they lie on the bed, and their body temperature rises, and their chest is blushed they look so hot… if you were there, you would like to just get in their pussy deep and hard, just before they go and feel their orgasm inside.
Well, the LezKiss is not an old site, and it's certainly not a bad site. The videos a professionally made, and not just the girls, but the work behind the scenes is nearly perfect. Up to this day, the collection of the site consists of more than 100 videos; these scenes are rather long.

Back to the
---
Looking for further info? Check these other porn site reviews.