Frat Fest Review & Discount
Overview
Going down the road of watching gay porn videos, I have spent a lot of time on the internet, searching and looking for something new, which does not include professionals and the likes of in their database. Well, have no fear, as there are college dudes out there who are willing to share their gay adventures. At fratfest, you get to see gay college dudes in frat houses, doing what they love the most, fucking each other.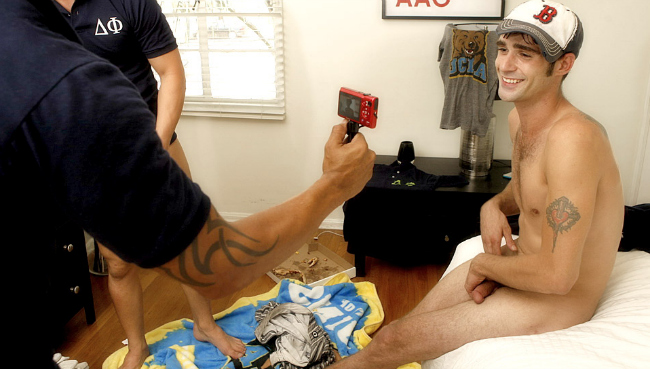 Design & Features
The site is there to involve you in the action, and it does so from the first time you set your sights upon it. The logo, frat fest, is colored in every possible shade, giving it a rainbowish look, while many dudes stand, their pants down, and on their asses, you could see drawn, the name of the site, which is, again, frat fest. Below, however, are many images, stills from videos, or actual photos, showing gay action in the houses. The real videos and photos lie in the area left exclusively for the members, which could be accessed for a small fee. And for that fee you would get extra perks, mind you. With that in mind, I would love to mention that the site runs as smoothly as you would prefer, as if it is lubricated instead of the asses of the dudes. The site, as well, runs very nicely on mobile devices, whichever you have, as it is greatly optimized. This allows for a very nice browsing experience, wherever you might be.
Boys & Videos
As the dudes themselves are actually amateurs, you can expect to find anything on this site. Absolutely anything, as all of the content is user submitted. You would not have believed it unless you have seen it with your own eyes, the fact that so many frat houses are actually gay frat houses. The things they do are completely insane, or otherwise pretty normal fucking. Standard dick to ass action could be found there, along with dick sucking, cumming and cum eating. Threesomes and orgies are also common, especially since these are frat houses we are talking about, where the dudes actually live. The content, being added by the users, varies in the quality of resolution. There are full HD videos or more, depending on the vehemence of the person who takes the shots, though most of the videos are your regular videos, captured by average mobile phone cameras. It is worth noting that nowadays, mobile phones have really better cameras, so the pictures and the videos are not bad looking at all. Though, you would overcome the pixels instantly, when you lay your eyes upon the action, which is always real, and sometimes really kinky. Likewise, upon joining, you would get access to 24 more sites, which are linked, all updated daily, all having different content. Paying a visit to fratfest is a sure way of getting yourself aroused, and to the point of no return, where an orgasm is guaranteed. With free and unlimited downloads of all the videos and photos your hard drives can take, all coming for a very small membership fee, you would also gain access to 24 more sites, all boasting with different content, all updated regularly, and you would end up being a very happy porn lover, having such a great deal right under you nose.

Back to the
---
Looking for further info? Check these other porn site reviews.
[SITE NAME] Reviews

| Website | Trial | Monthly | Yearly |
| --- | --- | --- | --- |
| [REVIEW SITE 1] | | | |
| [REVIEW SITE 2] | | | |
| [REVIEW SITE 3] | | | |