Anal Checkup Review and Discount
Overview
One of the porn niches that I really enjoy is anal. However, let me start this short porn review already in saying that it is really hard to search for an anal porn site that I would really enjoy. I have been having problems with the different porn sites that I have seen in the past, until now. This is the reason why I am really excited to share this porn site with you today, because I feel that there are other guys out there like me who enjoy anal sex but have not found the porn site that they would like to sign up for membership yet, and our reasons might be the same, my friend.
First, there are a lot of anal sites out there that are downright disgusting. I don't know about you guys, but I sometimes can't bear to watch really huge (not to mention dark and aged) asses. Especially those that also cater to intense niches and fetishes that I'd rather not talk about. Another thing that disturbs me is when I see that the ladies are not really enjoying it. What's the point of an anal porn site only to find that the porn stars and models do not appear to like being fucked from behind? Hence, a perfect anal porn site for me is this: one that features fresh chicks with oh so tight assholes, and of course, they feature only ladies who are crazy for being taken from behind as well. Really awesome porn stars who twist in anticipation and pleasure from the stimulation that their asses are being subjected to. If this is also what you seek then you would love the porn site that we have featured today. This is called AnalCheckup.
Unfortunately, the exact name of the porn network that this porn site belongs to was not mentioned anywhere in the homepage or in the sign-up page so we cannot reference it here. However, as it turns out, this adult network is a big one, made up of more than forty porn sites in all. And for all you anal porn lovers out there, A LOT of these porn sites are dedicated to anal porn. We are talking about different angles and sub-genres of anal porn here my friends, and all for your enjoyment! If you would want to be part of this delicious ass world, then you might want to consider joining the AnalCheckup porn site which would also give you full access to the other forty-plus sites that we have mentioned a while ago. You only need to choose between three of the membership plans that they have available: a trial, a one month, and a three months offer.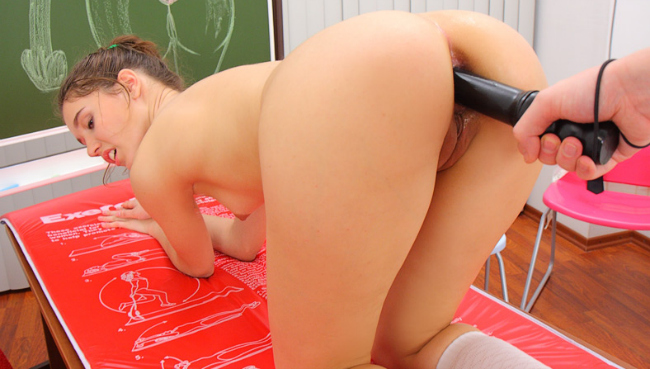 Design & Features
The first thing that entered my mind when the words anal and checkup came up was a doctor's clinic. One cannot be blamed because of the word's check-up, right? Surprisingly, the porn site followed the academic theme with short plaid skirts, chalkboards, and pigtails. We are thinking that the reason for this is because of the fresh chicks starring in the porn site. In this light, the background of the porn site is made up of a giant chalkboard with different chalk illustrations of dicks with beautiful ladies pointing at them. The logo of the porn site itself is written in a chalk-like font. Other than that, the color themes used in the page are in a bright blue and pink as well, this is again, to complement to the lively and energetic vibe of the porn site.
You will enjoy the way that the porn site previews its videos. It is totally unlike other sites that only show thumbnails. In AnalCheckup, you will get to enjoy a short video trailer of the scene along with the name of the model working as the title of the video. Also, it is important to note that each video is actually a set that comes with a full-length video and a complete album of high-quality images. In fact, each album contains more than five hundred images. Finally, you will also find an accompanying descriptive paragraph of what the video and album are all about.
Girls & Videos
As what we have mentioned, the real charm of this porn site is the women. They are all really fresh and vibrant ladies with really tight ass holes. Plus, I really enjoyed that the ass holes that you are going to see on this site are all pleasant to the eyes. They are absent of that dark skin and (sometimes, unfortunate) strands of hair that you can see in other porn sites. Can you tell that I really personally hate that? It distracts me from what I love, which is pure and clean anal sex. You will also get to enjoy seeing different videos where the porn stars in the scenes use different anal sex toys and other sexy implements that you would also enjoy using. It is always fun to watch girls and boys having freedom with their toys!
And that is it with this porn review, my friends. What I would also suggest is for you to explore the porn site further on your own. After all, they have a trial membership plan that you can enjoy anyway. This is a really big site with an entire library that you can explore. Don't forget to take a look at the other sites that are in partnership with this porn site as well. There are a lot of anal porn sites of note that you will surely enjoy visiting. Some of these are Teach My Ass, MakeTeenGape, and AssTeenMouth, all of which deals with different anal porn genres and star equally fresh beauties as you have seen here in AnalCheckup.
This site doesn't exist anymore, have a look at this best anal porn sites collection!

Back to the