She's gonna Squirt Review & Discount
This niche has become a hot porn feature in recent years and the site presents it in Brazzers own inimitable way, which is to say, plenty of frenetic action and lots of everything else too. In addition to women peeing, the site also presents women squirting milk from their nipples or fluids from their assholes.
Membership of She's Gonna Squirt gives you access to all of the Brazzers sites (around 30 sites at the time of writing) with over 7,000 exclusive videos, 4000 scenes, and more than 2000 pornstars, as well as regular bonus movies and live shows every month. Brazzers tagline is 'the world's best pornsite' and it may well be. It's certainly as good as any out there and better than most. They have a site for every category or genre of sex, such as; 'Big Tits At Work' for those who fantasize about busty women in the workplace and more big tits sites like 'In Sports' and 'In Uniform', which take those bodacious boobs out in many different scenarios, 'Doctor Adventures' give us all the chance to watch doctors, nurses and patients doing something other than talking across a desk from each other, 'Hot and Mean' is a site for lovers of lesbian lust, where the girl-on-girl action is intense, or 'Asses In Public' where the stars get out into the wider world and fuck, no matter how risky a business that might be.
Their movies are made by them and for them so you can be sure when you join you're seeing things only available to you and their other members. And you'll know when new content is available because they are on Facebook, Google+, Tumblr, and Twitter. And you won't have long to wait for news because Brazzers provides two updates every day and has done for about ten years so you have plenty of content to sift through and reasonable confidence that they won't go out of business before your membership ends.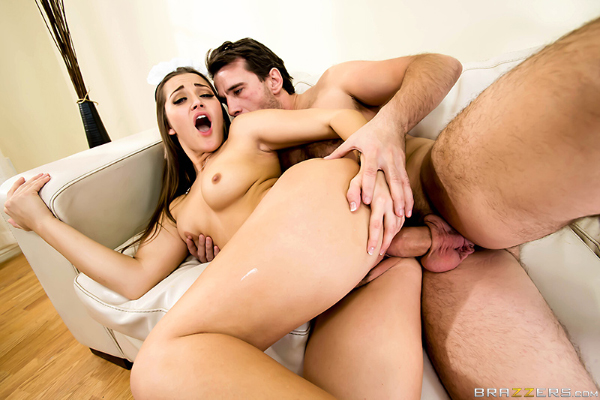 Design & Features
She's Gonna Squirt is laid out in a very visual style; there are few words to get in the way. The header, for instance, has only the title, some images, and a button that sends you to the sign up page. The body of the Home page has about eighty images, one from each of their most recent movies and all send non-registered websurfers to the registration form. Immediately below those images is another opportunity to join and below that is the footer with the usual site details. Members, naturally, can view all the videos from the Home page.
Once you've become a member, you'll see all those Home page scenes, and the many more in the She's Gonna Squirt archives, through unlimited downloading and streaming of their exclusive, True Life 1080p HD videos. You can watch on your PC, PS3 player, and your tablet and mobile devices. They even have an Android App so you won't miss out if you're an Android person.
Women squirting is a strong niche porn topic nowadays and many networks have at least a page that caters to this interest. Few, however, have a whole site dedicated to it and even fewer have all kinds of squirting on display, which makes this a stand-out site in the genre.
Girls & Videos
If your girlfriend doesn't do squirting shows for you, then on She's Gonna Squirt you will find incredible women that love to climax so hard. These girls are experts in female ejaculation and in every clip you can see them squirting so hard! The models are mostly fresh girls, but you can find some cool MILFs, if you like that. These women are mad about sex and they love anal play and a big cock in their asses. All of them are into hardcore and rough sex makes them cum so hard! One of the most beautiful starlets from She's Gonna Squirt is a blonde with long hair and with a sensational fit body. She has a lovely face and her ass is just perfect! In one clip she gets so excited at the yoga lesson that she starts squirting in front of the instructor. Upset that the slut is ruining his lesson the guy asks her to get naked and he puts his big cock into her pussy! They fuck like that for around an hour and in this time you can see some amazing squirting shows and some multiple orgasms! Another beauty from She's Gonna Squirt it's a brunette with perky tits and with a splendid slim body. She has a very sensitive clitoris and in the middle of a relaxing massage, she starts squirting on the guy that is massaging her back! The dude is amazed by that, but also very excited so she fucks her ass with his monster cock! Some very cool porn movies from She's Gonna Squirt will show you some amazing parties, where women ejaculate all the time. All the models from this website are the best if you want to learn everything about how to make your woman squirt hard! The chicks on She's Gonna Squirt are very horny and a good pussy licking can make them squirt hard!
Conclusion
If you can't get enough of women who pee when they come and you also like big-breasted women in any situation, the She's Gonna Squirt and the Brazzers network is somewhere you should look into for membership. They do both these niches, as well as many other niches like scary, sexy medical procedures, lesbian girl-on-girl action, interracial, gangbangs, double penetrations, and videos that are porn parodies of mainstream movies or TV shows – something you don't get on too many other networks or sites. Squirting girls are such a specific niche you likely won't have so many choices but, among the ones you have, you won't find a better one than She's Gonna Squirt.

Back to the
---
Looking for further info? Check these other porn site reviews.