PropertySex Review and Discount
Overview
The PropertySex is bringing some really sweet fantasies to life. In these staged and scripted porn videos you can watch gorgeous girls acting as real estate agents, tenants and victims of the system: they got an eviction note. When one works in these fields he probably fantasizes about clients, especially when they are single girls in their prime years. On this site you can see your fantasies coming to life, as the girls are getting banged either for their own good, or for the client's. Open the page, and see for yourself that these girls are gorgeous, they do some really good porn, and they are way too hot to be real. The PropertySex launched in 2015, so it's a rather fresh portal, with really hot action, and crispy new content. We are always eager to find the best new porn sites for you, and with the PropertySex, we have to tell you, we have found an amazing one! It's new, so the content comes in really high quality, and the usual maximum resolution is 1080p. Also, the site keeps on updating, and there is usually one video added every week. Currently, nearly 50 scenes are waiting for you, usually granting 15-20 minutes of hardcore fun.
This portal is a site from the VixenX, which is another porn site, and the PropertySex is its first themed sister. If you become a member of the PropertySex, you gain access to the man site too. There you can find another collection of hardcore porn videos, featuring these stunning girls. It seems the VixenX has a fixed collection, but it's exclusive, and by this we also mean to say that the videos of the PropertySex are fully unique. Also, you gain access to some other bonuses: there are third party bonus video feeds for you (the site refers to them as channels). These offer you a much larger variety, and some truly neat extra porn to enjoy. They come from partner porn providers, you can enter some of these sites, by joining them on a discounted price. You can join live chats too, this is the regular bonus porn sites can offer.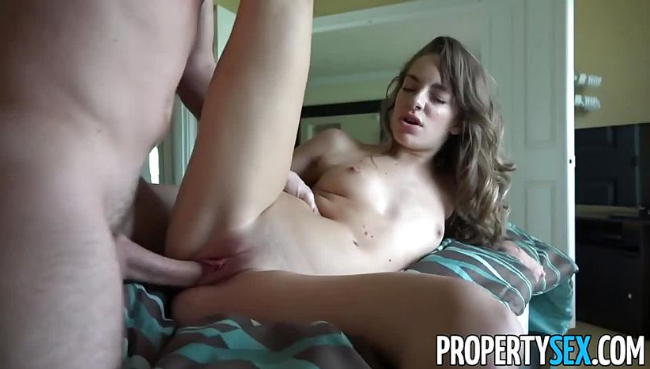 Design & Features
The PropertySex looks really good, and it features some cute girls, whom you can see on the gifs and thumbnails on the tour page. It's unfortunate that the site follows the trend of other reality porn sites: only pictures and gifs are listed, but there are no preview videos, which could be helpful, and we are certain that some fine trailers could convert more than some photos. But, that's not a big issue, and as you will find out soon, there is barely any other problem with the site. Since you are not here for the tour, follow us into the members' area. It's a fine, nicely build page, where you can find everything you may need. The PropertySex members' area has a logo, and a search field on the top. Above this area, you can find the "Special Offers", which make it possible for you to join different reality-themed networks at a discounted price, such as RealityKings, MOFOS or the FakeHub. Under the logo and the search field, they placed the actual menu of the site. From here, you can reach the bonus channels, the live shows and the promotional deals, such as the site's content, and your favorites. The search may prove useful, but we suggest to use the pagination or browse by models.
When you pick a video, you can see a short info-tab on the left of the page with the date of addition, the channel (or site) it comes from, the model's name, and the keyword tags. The player is large, and you can start playing the videos as soon as the site finished loading. For in-browser viewing, it's not a bad site at all, and the quality is amazing: you can enjoy the scenes in 1080p. Under the player, you can rate the scene, add to the favorites, and there is also a comment section. The download options are there too: you can save the video in 1080p, 720p, and 480p. There are no limitations and DRM on the files. The picture sets are mostly video captions, but some high-res photos are available too. You can download each gallery in a zip file.
Girls & Videos
The PropertySex has those hot reality-porn cuties you can watch on the major US-based reality sites. They are cute, 20-28 years old girls who have natural body, great lust and really good endurance: they can take in a cock fully, no matter how big it is, and they even like it. Some girls here are considered as professionals, but there are also some fine specimens whom you could refer to as semi-professionals, they are even fitting the amateur niches too. Mostly Caucasian girls are featured in these videos. However there is a growing ethnic presence too, represented by the fine and gorgeous Asian, Black and Latina hotties you can find in some of the scenes.
Every video is a reality-porn shot. This means, that the stories they tell are close to everyday life, but still they are quite far from being actually believable. The girls are always eager to get a cock in their mouth, just to get that client to sign the contract, or avoid being evicted for being late with the mortgage. There are scenes with landlord-tenant situations going astray, and you can enjoy some really fine sex in them. After a year of operation we have to say that we are satisfied with this site, and it's on the good track to become a success. Soon, there will be no question about, it, especially if they keep adding Full-HD hardcore videos every week.

Back to the
---
Looking for further info? Check these other porn site reviews.