Private Classics Review & Discount
Overview
The PrivateClassics offers the members a collection of vintage porn. The videos, pictures and magazines are all the products of the Private, a European porn provider company. The site launched in 2011, and it keeps updating with a frequency of two occasions per month. It's certain that the magazines are added twice per month, and it seems that they add at least one video and photo set on each occasions.
The content of the site is exclusive when we look from the aspect of online publication. On the other hand, everything that you can find here was released in offline formats: magazines on real paper (what an ancient technology!); the films were published on VHS, VCD and later on DVDs. Since it's an archive site, it's only expectable that the site doesn't offer actually unique content, though it's hard to get your hands on working VHS tapes.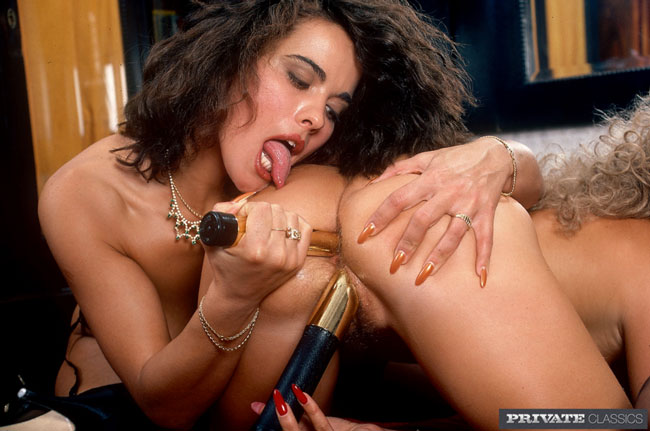 Design & Features
The tour is really exciting, and it's well worth to take, because it offers a really good insight on what you might expect from the site. As soon as you land on the page, a teaser plays on the left side, while there are some updates listed next to it. The teaser is muted and it's pretty long: it goes on for more than four minutes. Since its one video it doesn't slow down the page, and it won't cause surprises like those that moan and scream loudly as soon as the site loads. The updates have trailers too, so you can get a peek inside the content. When you log in, you will notice that there isn't much change, only a few other options appear, but the overall layout and design is like the tour page's. The search engine is simple and it doesn't have any advanced options. There are keyword tags attached to the content, thus you can find your favorite niches easily.
The videos are available for online watching. For this, a Flash-based embedded player is provided. It offers a smooth playback quality, and you will certainly enjoy watching the scenes in your browser. Anyone who doesn't prefer online playing should go with the download options. There are only MP4 files available, and since the videos are not in HD, they doesn't use up too much space, thus you can build your own library of vintage porn. Among the content of the site, you can find photo sets too. These are really varied sets, but you need to know that not all of them are the high quality sets that you would expect from a site like this. Also the magazines are scanned in as pictures, so those add up to size of the picture collection. Every set is available for download as a compressed file. If you try to access the site from a smart phone or a tablet, you will see that there is a nicely done mobile website, which grants you all options you get on the desktop page. You can watch and save everything, the site is fully functioning.
Girls & Videos
Since the PrivateClassics has a large collection of porn videos from the past, it's natural that you get to find here only professionals. You can see here some big-shot porn stars that have aged since those movies were shot, though most of the remained in the business. Some are still acting while others are mostly directing porn videos, mostly for online publishing. Back in those days, the cosmetic surgeries weren't cheap and in fact they weren't even possible. Breast enlargement, lips correction and buttocks filling are the invention of the newer ages; when a girl is called beautiful if she has tight body, large tits and bouncing bubble butt. This is why you will notice that most models on the PrivateClassics are full naturals. Since there aren't much fake tits, you will see the beauty of imperfection. Don't forget when you watch these videos that it's vintage, and there are scenes and photos that are fifty years old, and that's a big deal.
No matter what, every girl here is gorgeous, and most of them are Caucasians (we're talking about European porn, after all). If you know your porn, you may notice some hot names while you browse the models' list: Monika Sweetheart, Silvia Saint or Nacho Vidal. Some of them are still active, they act and direct. All movies on the PrivateClassics are staged and scripted. There are hardly any non-planned events taking place in them, and they are cut together carefully. Compared to today's porn videos, these ones might not offer that great resolutions, but they are put together very well, and you can see that they were shot with care, not just hastily made in a week or so. No matter how far we go back in time, porn is still porn, and when it comes to sex, every decade has its own level of hardness.
Don't worry though, the scenes are far from softcore, they are real hardcore, however there is much more kissing and eye contact than in the newly produced porn. There are juicy lesbian scenes with licking and fingering; also many of them introduce the use of sex toys. You can enjoy here anal sex, gagging and some other heavy hardcore niches, like interracial porn, gangbanging that ends with bukkake. Right now there are more than 45 DVDs uploaded to the site, the overall count of scenes is over 260.

Back to the
---
Looking for further info? Check these other porn site reviews.