My Race Queens Review and Discount
Overview
Every man like to watch a car or motorbike contest where hot chicks in bikini or miniskirt are starting the race. On MyRaceQueens the excitement is doubled, since you can watch hot race queens in hardcore porn action. However you need to know that this site doesn't have anything to do with the western cultures and hostesses of our countries: MyRaceQueen gives you access to a large collection of Japanese cuties in various action. In Japan, doing adult films is not a taboo, that's why you can watch these race queens in porn scenes. Being an AV Idol is a thing that many women try out in Japan, some of them have a big career, some of them not, and they get a normal job, without running into problems for shooting some porn. The Japanese porn industry has its own ways, and for the western men, the whole thing looks a bit weird. But enough that, let's take a look at the benefits of the membership on MyRaceQueens. This site is part of a larger network, featuring only Japanese hardcore pornography performed by fresh or mature AV Idols alike. (Mature AV Idol doesn't mean that the chick is old, but she had more experience, she has her specialties and she does some kinky stuff too, to remain in business). With the membership you get access to the whole network of the AllJapanesePass, which means that you get access to 24 Japanese hardcore sites, where you can find all niches covered, including gangbang, bukkake, BDSM and the famous Japanese cartoon porn: the hentai. The videos on all site are shot in high quality, most of them are available in HD for view and download too. AllJapanesePass is a large and growing site, and they plan to add more sites to the network, so pay attention if you become a member.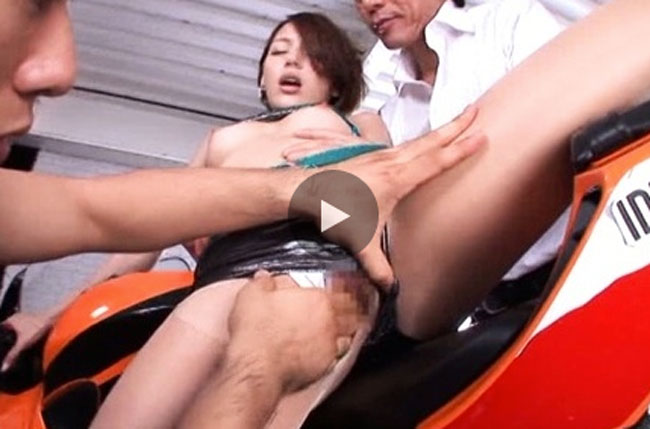 Design & Features
MyRaceQueens has a nice and professional site with an easily usable layout, and if you decide the take only the tour, you can still have a good time while browsing the site. Right on the top of the page, you can find the main heading with the logo. Under that you can see a menu with four options for logging in, bookmarking the site, list the network sites and joining. The rest of the page is a paradise made from high quality thumbnails and sorted by various aspects. The first section you can see, features the hottest racing queens of the site, and if you are a member, you can click on the thumbnail and go to the profile page, where you can see all her scenes and photos. Next you can see the thumbnail of a few scenes, my guess is that they are either the recently updated or the top rated scenes, and when you choose one, you land on the video's page or in the subscription area. Lower on the main page of the site, you can see some categories. For example, you can find here Busty Race Queens, who have big boobies, and as you can see from the pictures they look pretty natural, not puffed-up fakes. Since all race organizers and car saloon owners want to get the attention of the audience the length of skirts are very short, and when there is wind blowing, you get the next category, the Upskirt Shots. The videos on MyRaceQueens are all available as a stream that you can view in your browser, in an embedded Flash-based video player. You have also the option to save the scenes for yourself without limitations or restrictions. There is also a large gallery available, where you can find picture sets with or without video. The pics can be saved in zip file or viewed online. The site and all sites of the AllJapanesePass are available on smart phones and tablets, you can enjoy all content wherever you want and whenever you want. As for the main niche. It's popular, since everyone likes cute girl in miniskirts, and when they start doing sex with someone that just adds to the enjoyment.
Girls & Videos
Anyone who likes Japanese girls will love the site (and all other sites included in the membership), since it features only cute models and hostesses who are going wild when it comes to sex. Most girls have black hair, but you can find some brunettes, blondes and redheads too. Since they are models, they look fantastic, with nice curves and awesome tits and ass. They might all be Japanese, but they are much diversified, you won't feel like you are watching the same girl over and over again, only if you want to. The videos are made in good quality. You can find here HD and DVD-quality scenes too, and all give an excellent, enjoyable playback. On MyRaceQueens you can watch 272 scenes, featuring cute Japanese chicks, performing a large range of hardcore action. You can watch them fucked from behind, with their skirts lifted up and since the Japanese like cosplay and CFNM, many scenes feature chicks with some sexy clothes on. A large range of hardcore niches are covered by the videos on MyRaceQueens. You can see some straight intercourses on bed both vaginal and anal, and there couples fucking on counters, sofas or on the floor. If you don't mind watching some kinky porn, you can find here gagging and many scenes have a level of BDSM elements included. The videos are diversified, and you won't find them repetitive.

Back to the
---
Looking for further info? Check these other porn site reviews.