Joybear Review and Discount
Overview
Doesn't the porn on the Internet make you cringe a lot of times? Most of the porn that is made out there and especially the porn that is freely floating in the World Wide Web space, are all made just with men in their creators heads. Even the girl on girl porn that is created is made with the intent that the target audience will be men and not lesbians. Porn on the Internet objectifies women. Contrary to popular belief, women enjoy having sex as much as men do and possibly even more. But when a woman wants to masturbate and goes to the Internet she is truly lost. Do you know lots of women who do watch porn? No, right? Women are a little different from men. Women love the visual that porn gives them, but also what is important is that they see the connection between the two people.
Even if it is a connection where there is no love involved. Women want to see passionate lovemaking and not mechanical sex, which is the essential difference. Women need porn to be sensual, to make their panties wet with anticipation and that is what women love in real life too. This is exactly where JoyBear comes in. All these issues that are faced by the porn industry made this one company called JoyBear do things differently. At JoyBear they make positive erotic films starring women who are not only beautiful, but who also have strong characters. And they show what a great time these women have with their partners. They have remodeled hard-core porn into erotic sensual stories. It doesn't get more real than this as the sex scenes are so well written and executed.
JoyBear will certainly change your outlook towards porn. They have even won the 'Good for Her award' at the 2013 Feminist Porn Awards. They have taken a woman's sexuality into consideration. This site is not like your generic sites that try to turn you on, this website lets you broadens your horizons and lets you explore your sexuality. They even have a lot of content for sex aficionados. It probably is the most tantalizing porn that you will ever come across which is natural looking and oh, so kinky.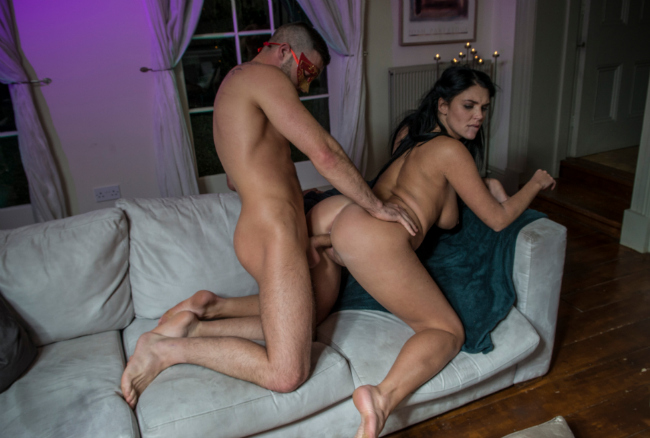 Design & Features
JoyBear has one the nicest and the fanciest website that you can possibly think of. As soon as you enter the website, the first feeling that you will get is posh and absolute luxury. And as soon as you do enter the website you will be greeted by a video which plays on its own, giving you a sniff of what is to follow if you do intend to subscribe to the website. The video has kinky bits where a model is rubbing just the tip of her nipple on the man, or the man grabs her boob and the nipple instantly hardens.
There are a lot of scenes on the video, which are sure to get your heart racing. There are links on top of the page on either side of the logo such as Home, Cast JoyBear, Journals etc., that allow you to pilot through the different parts of the website with absolute ease. The rest of the content on the website is also well organized. They have divided the content as per all the top stories, all the latest content that is available on the website and the special, exclusive JoyBear Journals.
The colors that are used on this website are stunning. They have possibly chosen the most regal combination of them all, black and golden. It is not like that these colors haven't been used in this combination before, it is just that keeping the premise of the website in mind, you realize how perfect the colors are. Black has been used as the background color where all the content is posted and the gold is used as the font color and a few other places too. This website is user-friendly and very well made. It will make sure that you keep coming back for more.
Girls & Videos
There is something sensual about the way the panties are tugged at and pulled free after all the exploration has occurred over the now swollen clit and the wet pussy whose wetness could be felt through the panties, as there is something sensual about women fondling a man's penis and cupping his balls while her mouth works on other parts of his body, finally, after having teased him to the point where he is holding her and begging her with his eyes to take him in her mouth.
Or how about when she's wearing a sheer bra, and the nipples are played with from the outside so that you can see them get hard taut and visible through the bra, and you take it in your mouth playfully playing with it while she moans and begs for more. Turned on, aren't we? This is the kind of content that JoyBear provides you with. It is extremely erotic and sensual and there is something for everyone. They have a lot of rough sex, some involving even BDSM, lesbian porn with some kinky girl on girl action and even threesomes. So, whatever it is that you are looking for you, will find here and the difference will be humungous.
There are over 149 videos for you to watch and download. You can download the movies in a mp4 format, unlimited. All these videos are available in HD quality with brilliant sound. Even the videos that you stream on the website are in the same quality. They upload the site twice a month. The kind of content that they possess you will make you keep coming back to watch them again and again.

Back to the
---
Looking for further info? Check these other porn site reviews.