YoungBusty Review & Discount
Overview
The word 'busty' is commonly used as an expression that best describes a girl's boobs' size. In the porn industry the busty models, especially the naturals, are very popular, and they have a full niche build around them. Girls with large breasts are usually featured in heavy porn too, since tit-fucking and tit-worshipping is a kind of fetish that almost all guys have. So, if you have a fixation for girls with a cup-size over E, you have found an awesome site, where the girls are not just busty, but they are also really fresh. Every girl here is professional, but you can forget the fake-queens of the large studios, as far as it can be told, these girls are naturally busty, and though many of them are cute, tight chicks, some bit more chubbier models also appear. There is new content added every day throughout the week: they add two sets and then one video. This means that during a week, 2-3 videos and 4-5 photo sets are added. They seem to keep the schedule really strictly, and at the time of this review, the site claims to have more than 1075 videos and 1600+ photo sets. Some bonus content is also available: you can view some samples from the sites of the company, mostly from the PackOfPorn network. As a member of the YoungBusty, you gain access to a live cam site, where you can find girls from this site performing live shows… and other chicks from all around the globe. Some may frown upon this, but if you consider that you are here for big tits, this site has more benefits than disadvantages. All scenes on the YoungBusty are exclusive, so you will be able to find here videos you can't watch anywhere else. And since the quality keeps increasing, the site is changing for the better.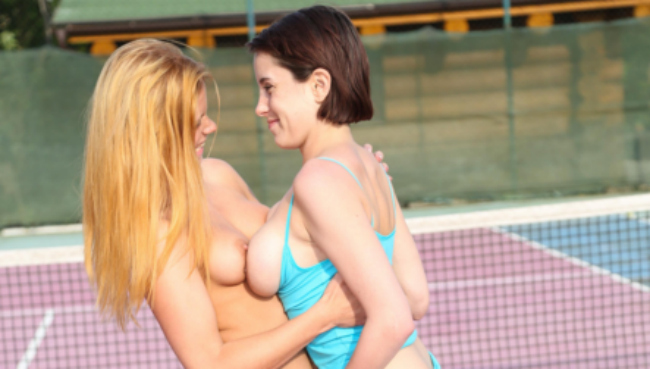 Design & Features
As soon as the tour page of the YoungBusty loads up, you can see that it has some very busty chicks to offer to you. The listed thumbnails and gifs show what you can expect to find here, and if you like it, you should head straight to the registration form. In tour mode, you can browse these pictures, and they are the only features of the tour, you won't find here any preview videos. The members' zone is quite simple, so it's pretty easy to use. The top features the banner and the menu. From the main menu, you are able to reach the movies, the photos and the girls' list, along with the live chat and the bonuses. If you want, you can stuff to your favorites' library. You can list the scene by girls, niches or type (softcore, hardcore). Actual search engine is not featured. For in-browser viewing you can open HD streams where it's available, and if it is, you have to watch that because you can't change the resolution. To enjoy them fully you will need a good connection and machine, since they are Silverlight videos. The files offered to download are WMVs, and they offer up to 720p, just as the streamed ones. There are three quality settings you can choose from. There are twice as much photo galleries then videos, so it's recommended to browse them too, since more tits and sexy pictures are there for you. Zip archives are also available for them.
Girls & Videos
The models of the YoungBusty have one thing in common: they are all busty. Their body is tight and with those great breasts it might be hard to decide what you would like to fuck: their pussy or their tits. Since almost all of them are natural beauties, the experience is much better, but as watching them fucked is also a good way to enjoy their beauty. Fortunately, the chicks are very varied. Not just their cup-sizes are different, but also their body types: some girls are nearing to be BBWs, while in other cases you can see cute, tight chicks with huge breasts. There are popular ethnicities in the porn industry, and on the YoungBusty, they aren't picky: Ebony girls, Latina hotties and Asian cuties also appear among the models. The title of the site depicts what age-range is preferred here, thus you can usually enjoy the performance of girls under 30. These chicks are professionals, but you will find here also some busty girls who are on their way to fame. The videos cover various niches, and apart from all them being a bit of fetish, the YoungBusty is also a pretty good hardcore site. Every scene is staged, some are scripted, and as you will notice they are all studio productions no home-made porn here. Apart from the obvious worshipping of the girls' breast, these models also give it back: long, exhausting blowjobs and deepthroat, along with tit-fucking are the ways to worship those cocks. The scenes are really varied, and due to the high quality, it's quite certain you will like them pretty much. Though most videos are shot in-doors, some very hot outdoor scenes, so these flicks are varied in this aspect too. Every video goes on for more than 15-20 minutes this way, that 850+ doesn't seem too few, does it? The guys who run the site are keeping up, and they always try to improve, that's the main reason why you can find here a growing number of HD videos. Those of you, who enjoy watching large breast on cute girls getting fucked, or you like BBWs, the YoungBusty is a site you should certainly check. The modeling and solo videos are really hot, and when it comes to doing hardcore porn, these girls are going to be really nasty. Probably the third best feature of the site (after the videos and photos) is that it provides access to a live cam show site, where you can even chat or enjoy a show of the busty girls you saw in the videos.

Back to the