SocalPornSluts Review and Discount
Overview
Southern California is probably one of the hottest regions in the United States, not only because of its rolling beaches but also because of its bitches. No, seriously, the beach chicks here are hot and a lot of them are pretty determined to fuck, In fact, the tagline of the porn site was pretty straight to the point in saying that in SoCal, sex is actually a way of life.
This is actually one of the reasons why I, along with some of my colleagues, really want to visit Southern California…but we can't just all pack our bags and leave, can't we? When we return, we have probably lost our jobs and we don't want that to happen. I personally love my job, almost as much as I love porn, and porn is my job! I'm in heaven. But anyway, it is very fortunate that we have found a way around this, and it is my pleasure to tell you that if you also find yourself in a position of wanting to visit this sunny region but can't, well, there is a way to do just that and it would not require to spend anything at all, except for registration, that is.
What exactly do I mean by that? It's simple. We are going to take you to Southern California today, through the porn site that we are going to review right now. Yes, there is no need to go there if the only thing that you're after are the girls because the porn site will bring the ladies right to you, even while you're still in your boxers and eating some cereal. Just make sure that you have a decent internet connection.
It was not really mentioned in the porn site that SoCalPornSluts is connected to the adult network, the GFNetwork, however, it is important to note that once you have entered the URL and visited the site, it would lead you to a landing page, you know the ones where they ask you what your age is before you enter the site? Now, after clicking on the "enter" button, the original page would then lead to another site, while another tab (or window) will open as well. The original page would lead you to the GFNetwork's homepage, while the newly opened tab would redirect to the main homepage of the SoCalPornSluts' site itself. In this way, two porn sites would actually welcome you, and this is also the reason why we believe that the SoCalPornSluts porn site actually belongs to the GFNetwork.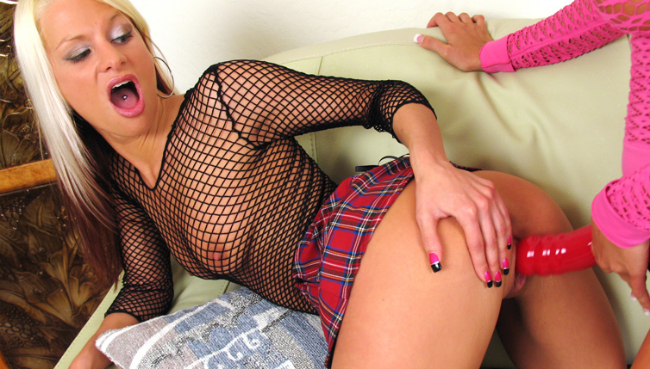 Design & Features
One of the first things that you are going to notice on this porn site are the girls. Let me just mention that this is another reason why we really think that this porn site is part of the GFNetwork. It's because even the way that they lay out their websites are the same. Going back, the ladies are the first thing that you are going to see because the layout and website design of this porn site display them so well. First, you will see their most beautiful ladies aptly displayed in the welcome banner of the site. Next, you are going to see more ladies, this time in the form of thumbnails as the porn site presents their latest uploads. The thumbnails are pretty simple though so don't expect to view other information about the scenes aside from the screenshots being presented by the thumbnails themselves.
Girls & Videos
Speakin' of the devil, as I have mentioned above the sort of scenes and videos that you will watch in this porn site are top of the class. Well for starters, the videos are all crisp and clear. And if you ever think of downloading these videos then don't worry. All you need to sign up and you would be able to stream and download all you want. As for the ladies, well, what can we say? All of the chicks here are authentic from Southern California. We just love that this region is simply multicultural, so even if you're just seeing SoCal ladies, you still get a variety of different chicks and even different ethnicities. Yes, we will truly get a fine time. Even the videos vary! At one video, you'll get to see a fresh innocent-looking chick, then at the next you get to see an outdoor scene, then at the next video, you'll get to see a group scene! Get your drives ready my friends because this porn site will take a lot out of your memory.
I bet you guys are already thinking to sign up for the porn site, right? So we got you covered over there as well amigos. All you need to do is to click on the sign-up link. It would then lead you to a separate page. Whilst there, fill up the short form and choose one from the three membership plans available. They have a one-day trial membership for those who want to take a look into SoCalPornSluts first, and two monthly options: a one month and a three months option to those who want a longer access. Not to mention that the longer plan you get, the bigger discount you'll enjoy. This is the reason why we totally recommend the three-month plan because it saves you a lot.
And here is the best part of this review. We will reveal to you the biggest perk that you will get when you join SoCalPornSluts.

Back to the
---
Looking for further info? Check these other porn site reviews.