Mean Massage Review & Discount
It is only natural for humans to cross borders and discover new things. There is a constant curiosity that always commanded our needs and social steps, looking for more and trying to explore all that the world can offer. That concept is not so different for your sexual tastes, as we are constantly evolving and discovering what makes us excited and aroused, and being sexually dominated is one of the possible arousing discoveries. There is a thinline between pleasure and misery, and it goes even thinner in some of Mean Massage's materials. Proving that being bounded or dominated can provide pleasure, the scenes you will find in Mean Massage are between the finest femdom in the internet, proving a likable content for aficionados or curious audiences.
Design and Features
The dark theme is well portrayed by the black background, contrasting with the white borders that highlight the latest updates and most popular scenes at the homepage. The main menu is kind of limited, with the proper tabs for the model gallery, latest updates, scene library and access to the network's sites (we will later explain how the network works, no pun intended). Scenes can be arranged by date, popularity, name or rating, making the search and browsing an easy task. The library is not stupid big, since the site has less than a year, but is pretty consistent for a recent site, with more than thirty scenes that include the videos and the image gallery for each video. This number, however, will keep growing, since Mean Massage manages to provide weekly updates and increase the size of extra scenes and bonus content. You can choose between streaming and downloading the videos, which have the average duration of 14 minutes. The downloadable files are in HD quality (1280 x 720), and the pictures have a nice resolution as well (1400×933). The amount of pictures per gallery can vary, but usually there are more than a hundred individual photos for each scene. You can also use smartphones, tablets and any other device with internet access to visit Mean Massage, using a proper mobile interface specially made to adapt to your device display. Mean Massage has a very simple layout, but behind this simplicity there is a precious content to be discovered.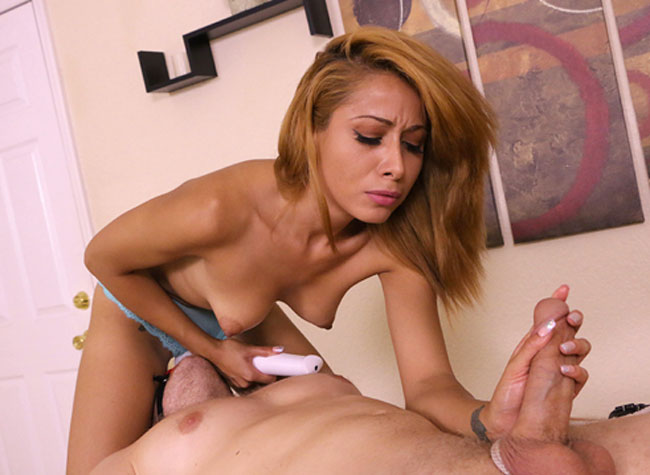 Network Sites
Adding even more attractiveness to their product, a Mean Massage membership will provide you not only their material, but also access to more than twelve hundred videos spread over nine different sites. That's a deal provided by Mean Massage's Network, so you get more for the price of a single membership. If you are a handjob fan, these sites included in the network may interest you more: TeenTugs: Without the femdom in the formula, TeenTugs is about innocent and sexy handjobs provided by some of the cutest and freshest models in the amateur business. With a nice exclusive selection of natural girls, the site does its best to make every scene unique and arousing. ClubTug: Maybe the most complete site to provide handjob scenes. As Club Tug doesn't explore a high niche based content, they make sure to extend even more the situations of their scenes, with multiple girls jerking off the male at the same time, competing or cooperating, adding mature girls and mixing things up with sporadic blowjobs and titjobs. A complete library of handjobs. EbonyTug: Only ebony girls milking white guys. It sounds like something not so unusual, but if you search well, there is not much studios that take that specific subject as the focus of their production. Ebony Tug's library is not huge, but the uniqueness of their content is enough to be high attractive and rare. Over40Handjobs: Another niche site that show its love for experienced women. From grannies to fitness cougars, there is no place for newbies here, being a palace only for the most capable women to give a properly executed handjob. Extremely hot!
Girls and Videos
Some models have a giant boob, and they are sure to work their skills, with titjobs that makes the dick disappear. Other models have minuscule boobs, so they compensate their lack of cleavage in the domination and the sex talking. No matter the attributes of the models, they are all properly explored in the scenes. The guys are often portrayed as bounded and hopelessly constrained, an easy prey to the dominant female that were providing an innocent massage not long ago. Their dicks are tied, played and jerked, sometimes tied alongside their balls, making pressure that intensifies the discomfort. The erection is almost commanded with the ropes, so expect some veiny dicks. However, not everything is agony, as the girls make sure that their man always enjoy the handjob, resulting in incredible ejaculations. When they want to provide pleasure, they will do it in the most arousing and sexy way possible. The technical aspects of the videos are also well executed, without much editing to sustain the gonzo-like atmosphere and with proper illumination that does not make the videos artificial. Nothing exceptional, but properly made with care and profissionality.ù
Conclusion
Femdom lovers should bookmark this site without doubt. Go on, just do it. The submission portrayed in this scenes is perfectly balanced, with the proper distribution of erotic material and domination, resulting in enticing videos that can be completely appreciated even if you are not into dominant women. Some of the girls have completely vanished from the adult industry, never to be seen again in porn. So Mean Massage exclusivity is not restricted to the theme explored, but also to the models. Gorgeous MILFS and amateurs with smooth skin and huge tits shines in the scenes, making their male partners cringe and cum in the exactly same proportion. If you the bittersweet sex, Mean Massage sure deserves your attention.

Back to the
---
Looking for further info? Check these other porn site reviews.