Jeff's Models Review & Discount
Overview
Today's woman ideal is all about tits and ass, the 'perfect' woman's body is nicely shaped, and there is not a milligram of fat on it. If you learned art, or jut paid attention in the history class, you may remember, that as we go back in time, the picture of the ideal woman changes. Back in the darker ages, the fat wasn't a bad thing on a woman: it was a sign of wealth; it meant that she had a strong body, and that there is always enough food to eat. It seems that this guy, this Jeff appreciates the old standards, and he shares the opinion of lots of other men: the bigger is the better; and it's not just about breast and ass, but about the whole body of the models. Jeff's models are all BBWs, that mean that they are big beautiful woman, and they are quite capable of doing anything just as their skinny counterparts, the pornstars of today.
JeffsModels launched in 2014 so it's only a year old at this time. They added the first scene to the site August of 2014. From that time, the videos were flowing in with a steady pace, because the updates were coming regularly. After one year, the site still has regular updates, there is usually one new video and picture set added every three days or so, and the owner of the site verified that there are three updates each week. The site has an exclusive porn collection, but there is a twist in this matter. All scenes are considered to be exclusive in the aspect of online publishing, but they are all come from DVDs that you may buy online or in stores. This fact however shouldn't really let you down, because buying the discs is problematic, it's far better to watch everything online or download to your computer. When you enter the site, you will find yourself in an advertisement free members' zone. Since the site isn't part of any network, there are no bonuses inside, but with the regular updates you won't really get bored on JeffsModels.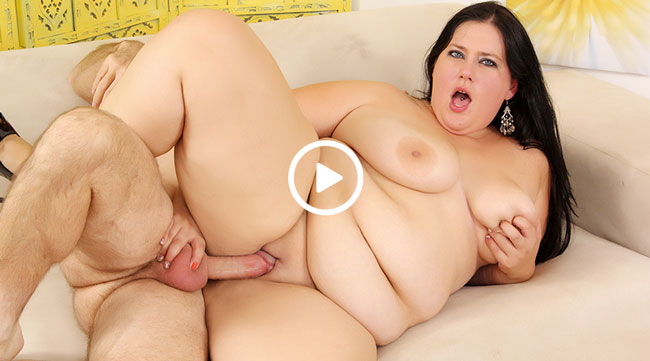 Design & Features
There are two kinds of porn sites: simple and overcomplicated. Sometimes a site that lacks in content tries to cover it up with too many sorting options, so it may look like there is so much stuff to browse. Luckily the JeffsModels don't need to cover up anything, because it has a good collection, though some may say that the site is too simple, but they should just shut up, this site is good as it is. The menu is very simple but in tour mode it doesn't really have any role, because you can only browse the home page, which lists some of the newest videos here. The layout of the site is easy to handle, there is a main heading and the videos' list. Take a look at the thumbnails; it's your only option in tour mode, and if you are a BBW fan, this should be enough to convince you to join. After logging in, the site won't change much, though you will see a working menu, which can help you to reach the videos' list and the models' index.
The site features a basic search engine. If you register on the JeffsModels, you gain unlimited and unrestricted access to the content of the site. For watching the videos, you have two options: you can save them to your computer or watch them online. Downloading the scenes is a good option for those who are either quality-nerds or just like to build libraries, collections of porn videos. The files are provided in MP4 formats, and you can choose from multiple quality settings from the Standard-Definition 480p, up to the 720p HD and the sharp and clean 1080p Full-HD. The stream that you can access with the embedded player is in Flash Video format and the resolution of it is the standard 480p. The online viewing is a fast and comfortable method, and it gives a good, smooth playback quality. All movies come with a set of pictures, and if you take a look at them, you can see that there are photos and video captions too. The galleries are rather large; they usually consist of circa 500 pictures. You may browse the collection in your browser, or save the sets in zip format.
Girls & Videos
The JeffsModels could be considered a heavy hardcore site, because it offers some kind of fetish, since the love of big bodies is a type of worshipping. The sex that takes place in the videos is varied and exciting. The girls get fucked in different positions, they give out blowjobs, and many of the scenes are featuring threesomes and gangbang sessions. There are some videos where multiple couples are doing it, so your desires for BBWs and group sex are all fulfilled here.
Those who are looking BBW lesbian sex should find some scene to watch and jerk off too. The girls of Jeff are all professional pornstars, but in difference with those very popular chicks, these women have big tits and big asses, though it's not plastic. The models on this site are called BBWs that means that they are all big and Beautiful, and they get some hard pounding. Though all girls are BBWs, they don't look all the same, they are really diversified, some of them are bigger than the other, while one has long hair, and the other has short.

Back to the
---
Looking for further info? Check these other porn site reviews.