Gagalicious Review & Discount
Overview
Getting a nice blowjob from a beautiful girl alone is a very good experience. When you meet with someone who is willing and capable of deepthroat sucking is much better. There is a third kind of blowjob which is the hardest of all: the face fucking. On Gagalicious you can find high quality videos presenting the third option. The girls featured on the site are all gorgeous and they can take much from the guy screwing their face.
If you are soft-souled man, you should leave this site at once, because the face fucking is the hardest of hardcore porn, and some of the chicks have a hard time stuffing the enormous cocks into their pretty mouth.
The Gagalicious is part of the FuckingAwesomeNetwork, thus the membership also grants you access to 9 exclusive hardcore sites giving you a large amount of videos and photos to browse. Since the gagging blowjob is a kinky niche of hardcore porn, you can expect only nastier things from the other sites. If you like masturbation scenes you can watch busty porn stars trying to satisfy their needs with dildos big as an arm on WillSheExplode. Some weird things are going on in the videos on HardcoreSmoothies, where you can watch scenes featuring models getting their pussy or anus filled with smoothie or other liquid and then they spray it out. On HardcorePowerTools you can see the future, when the manpower is exchanged with machines: on this site the chicks are getting fucked by machines, since there is no man who can ease their lust.
So the Gagalicious itself is a pretty neat site with real hardcore scenes, and the whole FuckingAwesomeNetwork is going to satisfy those who like the hardest of the hardcore sex. The girls are wonderful and quality of the videos and the sex is excellent.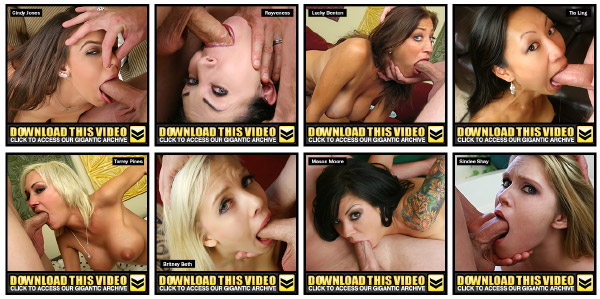 Design & Features
The Gagalicious's site follows the main trend that you can see throughout the porn sites. It has a big heading with a montage and the logo of the site, and under that, there are lots of sharp thumbnails each linking to the appropriate video.
Most sites that you may encounter during your search for porn have a very simple and quick tour that lets you scroll down the main page and watch the thumbnails. Usually, if you click on one of them, you are taken to the registration form, and you can access the flics only if you are a member. Gagalicious is not different; the tour is just there to awaken your interest.
The videos on the site are captured in different qualities. There are normal SD scenes, but you can find a good number of HD and even 1080p HD videos too. As a member you have unrestricted access to the collection, and you can download them to your hard drive, or watch them as soon as you enter the site, in the embedded Flash player from the members' area. Each video has a play time of 15-20 minutes, and all have picture galleries attached.
Girls & Videos
Did you know that on Gagalicious you can find only real amateur women? Most of the clips are user submitted by normal guys like you that are lucky to have such beautiful girlfriends. These real girls look so natural and they have splendid bodies. Blondes, redheads, brunettes, MILFs or fresh girls, women with slim bodies or huge tits can be seen on Gagalicious. All of them have in common the love for sex and the love for sucking big cocks. These chick deepthroat incredibly and you must see all the movies with them. One sensational woman is called Marry and she is a very fresh submissive woman. Her master is a much older guy that fucks her mouth all day long. The girl is brunettes, she is not very tall and she has a great ass. She sucks with so much pleasure and all her deepthroats are very messy. She chocks a lot of times on the cock, but she never stops, unlike other girls from your life. That woman can suck for hours and she loves when you put your cum on her face and on her hair! On Gagalicious there are also some very hot Asian women, with slim bodies and great sexual appetite. One of those is Tia Ling, a splendid brunette that has such a long throat! A man puts in there a monster cock and that slut can deepthroat it without any real problems! She is amazing because she can suck for a long time and she never needs any breaks! On top of that you can always cum in her throat, she loves to eat all the cum! The amateur women from Gagalicious are so sexy and all of them like to please their men. For that they suck cocks, until the guys cum all over them!
You will not find a site on the web only dedicated to blowjobs, deepthroats and mouthful of all hot creampies. Gagalicious is unique in that way and they provide access to some hot videos featuring sexy porn stars swallowing the hot cum till the last drop of it. If you are into hardcore oral sex, Gagalicious is the place for you with submissive women that are ready to follow your instructions to give you the best oral fuck ever. And after such a crazy oral fuck these sluts surely deserves a big creampie.
Conclusion
Gagalicious may seem a bit mean, but there are lots of men who like this kind of rough blowjobs. The girls are doing everything they can with their bodies to take it all in, and they are performing very well. The sex is rough but enjoyable, and face-fucking scenes on the site worth to watch. Those who like the unusual and kinky sex can also access the whole network of FuckingAwesomeNetwork, where you can find much more videos covering different niches, and performed by gorgeous porn stars, which don't really care about that it may seem offending or kinky.

Back to the
---
Looking for further info? Check these other porn site reviews.