Dream Tranny Review & Discount
Overview
On the DreamTranny you can live out your dirtiest fantasies. As you may have already found out, the site is a heavy hardcore porn site, with transsexuals in the videos. This kind of action is pretty hot, because it has a growing audience. Lots of guys are operating themselves into woman (more or less), and there are a large number of folks, who like to fuck trannies. It's not easy to categorize these guys, because they are not gay, but they aren't heterosexuals, they are somewhere between bi-sexual and homosexual. So, that really doesn't matter, the important thing is that if you are reading about this site, you are one of those guys, who like to watch videos where everybody gets a cock in his ass.
The DreamTranny is a rather new site, and it has numerous promises. It claims to provide the eager viewers with exclusive and high-quality videos, featuring transsexuals and heavy sex. Actually when you stumble upon the tour page and take a look at the thumbnails, you can see that the exclusivity might not be a question on this site, all videos seem to be unique, and there isn't much chance that you have seen them anywhere else online. This might be the first time that these videos were published online, though there is a chance that you may find them on DVD, because there is a DVD series with the same title.
This site was actually launched in May (2015), so it's quite new. There might be some faults or errors, but that's possibly because of the new built, it needs some fine tuning to work properly. There isn't much information about the company that runs the DreamTranny, so it's not possible to tell if there is going to be any extras added to the site later. Right now it seems that if you become a member on the DreamTranny you get access to only the videos of this site, and there are no extras included. The only information that could be gathered is that there is another site with the exact same design and layout (though it covers a different niche), so there might be some connection between the two, but since they are both new pages, everything is going to be worked out later.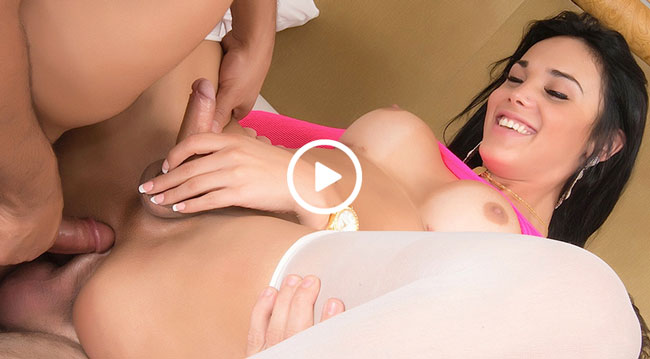 Design & Features
The DreamTranny offers you complete and unrestricted access to its videos. As the first and most evident option, you will find the online viewing offered to you. The videos are streamed as Flash-video. The connection to the server is strong, and the stream is stable. Luckily, the embedded player is also well-built; it's a standard Flash-player with the usual options. When you start watching a scene online, you may experience some buffering and lagging in the first few seconds (depending on your machine, and the installed Flash), but otherwise the playback is smooth. Another useful option is the downloading. You can save the videos in MP4 file format, and it seems that there is only full-scene saving available, no clips or partial files. You can choose from three quality settings: the first is the standard setting with 480p resolution, and most of the scenes offer HD resolutions of 720p and 1080p. The downloading speed is quite good, and it's steady. You get unlimited access, and you can also keep the videos without restrictions. As for the design of the DreamTranny, when you take the tour you can see for yourself, that it's a really simple site. There are no menus around, the only options offered to you are either to join or login if you are a member. Under the heading, you can find the list of the videos. Each piece of this listing features one large thumbnail and six lower-sized ones, you can read descriptions for every video. The members' area follows the same design, and it doesn't offer you too many navigation options, since the collection isn't that big. As a member on the DreamTranny, you naturally get access to the picture collection of the site. These are mostly screen captions, but since the videos are all shot in high quality, you can find that captions are all really sharp and clean. The DreamTranny doesn't have an actual mobile-friendly site, but the whole layout is made in a way, that it's easy to browse, and it looks good on tablet PC or smart phone.
Girls & Videos
The girls here are not real women, they are transsexuals, and though they have some nice tits, there is still a cock between their legs. They look pretty good, and if you like this kind of girl, then feel free to jerk off while you watch them. Anyway, these models are not amateurs; they are all professional pornstars so they know what to do. There are various ethnicities represented on the site: you can enjoy the performance of Caucasians, Blacks and Latinas, it seems that there aren't any Asian trannies here. What takes place in the videos is real hardcore, and it's a bit nasty. First, the tranny-girls get to suck cocks and they also get their ass fucked. Second, this happen the other way too, and the trannies get blowjobs, and they also fuck the ass of the guys. There are mostly two kinds of intercourses here: couples (one on one) and threesomes. If you like kinky sex, and group fuck, you will enjoy these videos, and if you are a guy who likes to watch anal creampies and mouthfuls of cum, these scenes will be to your satisfaction.

Back to the
---
Looking for further info? Check these other porn site reviews.