Czech Lesbians Review & Discount
Overview
The CzechLesbians is a site where you can enjoy the heavy performance of some really hot lesbians. In fact, they are not hardcore lesbians, most of them are bi-curious, and this certainly makes them really temping… and there is a video where something outrageous takes place.
All videos of the website are unique, you won't see them anywhere else, and believe it, these hardcore lesbian orgies are really something you should see. With the full network access, you can browse through all existing and upcoming sites of the CzechAV, and those who are looking for the hottest Czech girls around will certainly appreciate this huge pile of bonuses they get.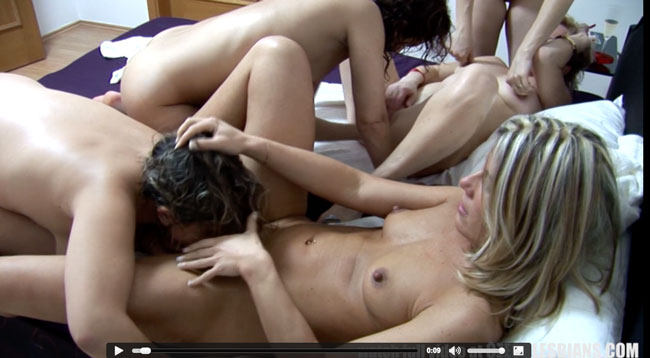 Design & Features
Every site of the CzechAV network has the same kind of tour. The CzechLesbians isn't an exception, and both the layout and the design are similar to the other tour pages of the network. The site has different color in use; it's not that black-red themed page. Anyway it looks good, and since the tour is quick, you won't really have to get used to it. If you decide to go on with the free tour, there are several pages of updates to browse. These are represented by large thumbnails and a description. These lesbian orgies are updated in shorter clips, so they are continuous as some series. You can enjoy a sweet trailer; the first listed update has a play button on it, so you can get a good insight on the content.
If you register on the site, you will land on the main center of the whole CzechAV. If you log in from the CzechLesbians, you will see that site's videos listed first, but with a click on the side menu, you can go to the other websites. The only thing that's a bit of a problem with this site is that it's not providing any navigational options. There are no keyword tags on the videos, and there is no search engine implemented. It's not that big of a concern, because all sites are niche driven, and they feature continuous events. The only options you get for sorting is to sort the videos' list by recentness and number of views, but that's all you got.
Saving the videos or watching them in the browser are the only two options you get from the site. For downloading, the CzechLesbians offers you WMV and MP4 files. You can get HD videos with the Windows Video format, while the MP4 offers a lower, SD quality. For in-browser watching you can use the Flash-player. The videos are streamed in FLV format, and they offer the pretty neat Web-HD quality.
The site, just as some other CzechAV pages, doesn't offer you any pictures; it's a videos only page.
Girls & Videos
All models on the CzechLesbians are amateurs and semi-professionals. You will see too that these girls are utterly hot, and they are very eager to show they like to lick pussy. It's quite possible though that if are already familiar with this network, you may have come across some their videos. This is an important side note, because these girls no just lesbians, many of them are bi-curious. If you were ever wondering about what's the big fuss around the Czech girls, then the CzechLesbians will give you the answer, that's for sure. Anyone who prefers natural beauty over fakes will glad to see that every model of the CzechLesbians is natural. The guys and gals who organized these parties did a very nice job with the selection, because you can find here not just all hair colors, but a wide age-range is also covered here. You will find here girls still fresh and crispy but some really hot MILFs and matures also appear in the scenes. As for the body of the girls, you can see that they are not just utterly hot, but these are also really diverse. Their overall look is very tempting, and there are some very nice shapes; the tits and asses are varied, and it's a good game to count how many are there.
The scenes of the CzechLesbians are all staged, but they don't follow any particular scripts, the girls just get on with it. All videos of the site are exciting, and the sex in them is really varied. This is a two niches at once type of website, because as you can see, this is not one on one sex: the scenes present lesbian orgies. If you thought that you saw hot lesbian action, you are wrong; and you will feel that way when you start watching these videos. There is word that would the best describe the videos: wet. It's not just because some scenes take place in a pool and a bathroom, but because the girls are cumming all over the place, and when they squirt they don't look where they are spraying at. These orgies start mostly the same way: the girls get naked, start kissing and licking. Usually there is a host, who oversees the event, and she usually gets into the middle too, and to turn up the intensity, she usually introduces dildos and strap-ons for the girls, so they can get on with some hardcore things too. Some heavier things also happen here, because the girls are not just aiming for pussy: anal sex, and lots of squirting takes place in the videos.
This site doesn't accept new members, enjoy this best lesbian porn sites guide!

Back to the