Czech Harem Review & Discount
Overview
Czech Harem is a Czech Av website, and its collection can only be accessed from the home site of the network. Once you buy your membership, you will have access to the Czech AV member area, from where you can access the library of Czech Harem by clicking on the name of this site in the left side menu. Although Czech Harem is offering one of the best porn you will find in the amateur niche, the way they are offering it is also a bit amateurish. The site looks cool and loads fast, don't get me wrong! However, it lacks some crucial features. The advanced search is missing. Not only that, but the movies can only be browsed in their upload order. There are no sorting options on the site, no rating system, and no filters. Also, the comment section is missing and so does the "favorites" page. The streaming is done in a simple and functional player with no extra features or filmstrip to let you skip straight to the most intense moments. At least the site was optimized to work on computers and any mobile device regardless of their operating systems. All in all, the site is navigable, but the user experience would be improved with the presence of the missing features mentioned earlier.
Collection
The Czech Harem website was launched in 2014, but even though a year has passed since the first upload, the collection is only featuring 15 scenes and the scenes are cutouts of longer movies. The scenes are about 20 minutes long. I know that the collection might seem small, but if you think about it, it's not. Putting together a reverse gangbang with 10 ladies is hard. It's not like in the case of regular gangbang, where all you need to do is find a chick willing to get fucked and then invite men over through Craigslist. Gathering 10-20 ladies for a reverse gangbang is not a piece of cake, especially when the target is to find everyday women who've never been in porn before. The collection is also cool when it comes to the kinks you'll get to watch. The videos are featuring a lot of lesbian action, crazy blowjobs, cum kissing, anal and much more. You can either stream the videos or download them as MP4 or WMV formats. The download on this page is free of extra charges, and it's completely unlimited to the members.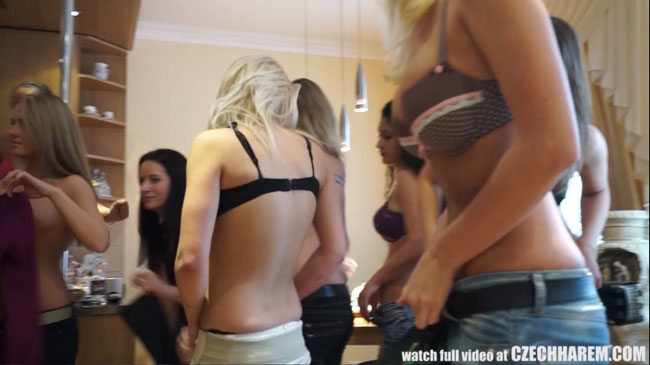 Pornstars
The best thing about this whole site is the very fact that the pornstars aren't actual pornstars. They are regular Czech chicks with wet cunts who want to make some money quick or just to have some fun. In the Czech Harem videos you will find mostly average Eastern European women, who are fairly hot judging by Western standards. Also, every gangbang has at least 3-4 super-hot Czech chicks with big boobs and pussies you would eat all night. The site is bringing you all kinds of women, from 19 years old students to an entire Harem video featuring only 50+ cougars who will fight over that cock in the middle. All you ever wanted can be found here. Tall chicks, short chicks, with long hair, with short hair, blondes, brunettes, redheads, big boobs, flat chests, round asses, hairy pussies, everything. Bottom line, the ladies of this site are way hotter than any group of porn stars, just because everything about them and all they do are legit. No fake boobs, no professional makeup and no pretend sex!
Memberships
This collection is 100% original and exclusive, meaning that only the members of Czech Harem will have access to it. The size of the collection might not reflect the price of the membership, but the kind of porn offered surely does. However, because when it comes to porn, everyone wants as much as they can get, Czech Harem has a special bonus for all its members. Anyone who joins Czech Harem will instantly become a member of all sites in the Czech AV network. We are talking about 28 sites for the price of one and an overall collection of 2,600+ hot and kinky Czech porn movies, all of them featuring exclusively amateur Czech models. The bonus offer includes Czech Casting, which is by far one of the most authentic and amazing casting collection on the internet. The cost for a month of membership on Czech Harem is $29.95, but I would suggest getting the three months membership for $64.95 ($21 a month) or better. The six months membership for $99.95 (under $17 a month). With Czech Harem, you will get a source of amateur porn that will last you a long time. Even if the Czech Harem collection is updating with a movie per month, other sites are uploading new content every day. You will never run out of porn with Czech Harem and Czech AV!
Looking for further info? Check these other porn site reviews.

Back to the
---
Looking for further info? Check these other porn site reviews.