Back Room MILF Review and Discount
Overview
All of us have, at some point peeped into our hot older neighbor's bedroom, just to take a peek and hope that we would catch her masturbating or even strutting around naked. You have possibly even helped her out a lot of times hoping that she would invite you over and things could get really steamy and crazy. And that she would be the one who would teach us all the intricacies of sex. She was older, so she obviously had a lot of experience when it came to this, doesn't she? What about that really hot professor who could really wear those high waist skirts? Didn't you just want to slide that skirt up and bang her like there was no tomorrow?
Especially that one time when she asked you to wait back to discuss your brilliant paper, weren't you just hoping that you would be able to hit it off with her? Well, if older sexy women are what you fancy, even when you jerk off, then you should look no further because BackRoomMILF brings you these really hot and beautiful women over to you. Now you don't have to fantasize about these women you van just click on a video and have them whenever you want.
BackRoomMILF is an amateur MILF site where these women love dick and love to fuck. They are adventurous and are ready to get down and dirty anywhere and everywhere. This website is created by the BangBros. Yes, the very same adult entertainment company who have all those amazing sites with exclusive content. And BackRoomMILF is no different. This website is different in its concept. There is one BangBros tradition, and that is the very first interview with all the different models before they do their first video. Here the models as you will see them are not stars, but the real women that you encounter and who you have the hots for.
Most of the sexy women on this website have very little or no previous experience at all, and they are willing to go all out. These interviews take place in the backroom of the BangBros office. They sit in a room with a man who is behind the camera! They answer a lot of questions about why they are here, and questions about themselves. You can see that they are a little apprehensive initially, but soon they get comfortable and that is the sexy part of it! Soon they get cheeky and start disrobing and getting really naughty with the cameraman. They even pleasure themselves with sex toys. I am sure the cameraman at BackRoomMILF has the best job in the world.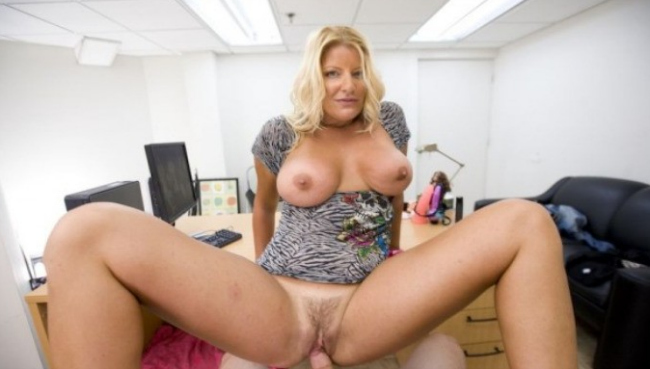 Design & Features
BackRoomMILF has managed to amaze us with its websites design. Most websites go for a really loud, garish kind of design, or a very sleek looking website. But these guys have broken all rules, and made the website very spunky and creative. The design team clearly has put a lot of thought into the website while making it. It has a very classroom vibe to it, making it unlike any other websites that you have seen. Even though the website has so much character to it, they have still managed to keep it minimalistic and they let your eyes focus on what is important and that is the content! The background has a woody pattern that resembles a desk. There is a white secondary background that resembles a notebook and all the content of the website is on this white background.
The font and the writing are colorful and it looks like someone has doodled it. They also have doodled artwork here and there making the page very vibrant and arty. It does not take your eyes off the content, rather just enhances your experience. As soon as you hit enter, you will find yourself surrounded by these really hot MILFs and you are definitely going to get turned on. You will see pictures of women baring their perky tits and smackable tush all for you. There are links on the top left which help you steer through the entire website with absolute ease. The rest of the body of the page is filled with lists and lists of all the MILFs that you would definitely love to fuck.
Girls & Videos
There are a lot of websites out there, but we can tell you for sure that BackRoomMILF is like no other website out there. This is one of the few MILF websites, which exclusively offers you amateur porn. These women just love to take some pounding and they want to be famous. They have little or absolutely no experience. But are so adventurous that it would blow your mind away. Also, not only do they look stunning but they also have bodies that could put a lot of newer stars to shame! BackRoomMILF has managed to get some of the hottest women out there on their website.
They have massive boobs with perky nipples, and asses that you would mind pounding into all night long. They know how to move their bodies and what position is the most pleasurable for their man! They suck cocks so well, that you would think that the gag reflex is a mythical problem. They suck, lick, push their boobs against the dick and work it. Let's get to the specifics. Most of the videos on BackRoomMILF are in high definition with brilliant sound. There are around 98 videos for you to watch which can either be downloaded or streamed on the website itself. If you download the video it will be in mp4 format. There are also photo sets available for you to watch and download. There are around 98 photo sets, which you can download as zip files.

Back to the
---
Looking for further info? Check these other porn site reviews.